Joe Biden Captured Again Touching Women On Video – But This Time He Really Crossed The Line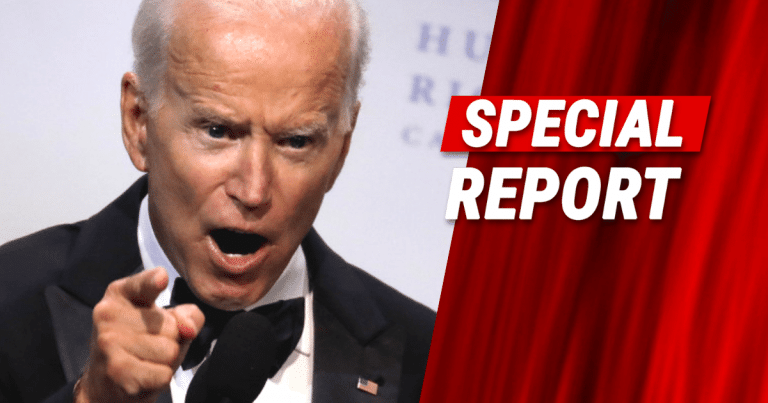 This could be the end for Ol' Joe – but it won't if America stays silent like the media.
Former Vice-President Joe Biden has been making a pile of gaffes lately. So many, in fact, Democrats are worried about his 2020 chances.
But this latest encounter is worse than anything we've seen.
Naturally, it slipped past the media. They conveniently refused to discuss it. But we're not making the same mistake.
This is outrageous. A young female, conservative reporter asked Biden a pressing question.
Not happy with a member of the free press asking him something simple, he did something. Something 100% unacceptable.
From Western Journal:
Democratic presidential candidate and former Vice President Joe Biden barked at a female questioner Friday before grabbing the college student by the arm to snarl a follow-up point at her…
How exactly did this terrible situation play out?
"Don't play games with me kid," Biden said. After walking away a few steps, he turned, grabbed the woman by the arm, and made a follow-up point.

"By the way, first one to come out for [gay] marriage was me," he said.
Watch it all go down – it takes a minute to see what's going on, but it's hard to deny Biden really crossed the line:
My team just forwarded this video to me

Watch former Vice President Biden forcefully grab one of our young field staffers at yesterday's Iowa State Fair after she asked him how many genders there are pic.twitter.com/1qmpJxJlzO

— Charlie Kirk (@charliekirk11) August 9, 2019
Wow. This is pretty bad, Joe. The female reporter asked Joe how many genders he thinks there are. I guess he thought he was being set up, perhaps by a left-wing outlet testing his wokeness over gender issues.
He snarled at the woman, even grabbing her arm. It sounded like he threatened her when he said: "Don't play games with me kid."
This is more troubling than a few comical gaffes. It's easy for the left to laugh off Biden when he mistakes Theresa May with Margaret Thatcher.
Or when he said he was Vice-President in 2018.
Those they can write off as simple mistakes, I guess. But when the former VP and aspiring president man-handles a woman—that's not okay.
The fact that he got angry so quickly, nearly threatening her, suggests Biden has a temper lingering under the surface.
President Trump is often accused by the left for having a short temper. But he always carries himself with class and professionalism.
When reporters try to trip him up, he just fires back with a clever jab or joke. We've never, ever seen Trump grab a woman and snarl at her.
Can you imagine how the media would react if this was Trump? And yet the media always portrays Trump as a bully, especially to women.
Here we have Joe Biden being an actual bully… and all we get is silence from the media and feminists.
We should all be very concerned over this encounter. If he does that to a woman in public who upset him, what could he do to people behind closed doors?
That a serious question.
SHARE if you think Biden should be held accountable for what he did!
Source: Western Journal