Joe Manchin Dashes President Biden's Hopes – He Claims 6 Or 7 Democrats Refuse To Pass Joe's Infrastructure Bill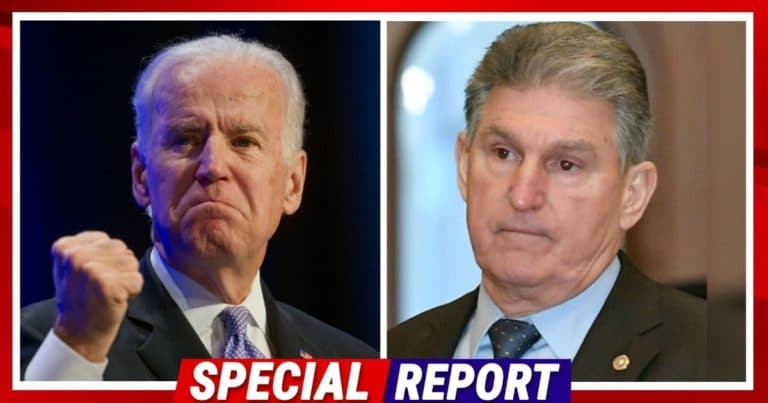 President Joe Biden's infrastructure plan has been controversial from the outset. While most Democrats support the $2.5 trillion legislation, many Republicans have stood up against it.
Some GOP leaders don't like the size of the bill — they say it simply costs too much, and it also includes far too many leftist-oriented items (aka "pork").
However, if the bill doesn't pass, it might not be due to Republican backlash.
Sen. Joe Manchin (D-WV) has questioned Biden's hefty legislation from the outset, calling out the high cost and claiming that not enough taxpayer dollars will directly impact the infrastructure.
He's not the only Democrat to oppose it, though.
And that's the problem:
Manchin believes that a small handful of Democrat politicians could cause Biden's plan to fail. As it turns out, they have an issue with one specific detail in the bill.
From Breitbart:
Sen. Joe Manchin (D-WV) conveyed Monday there are not enough votes in the Senate to pass President Joe Biden's $2.25 trillion infrastructure proposal due to six or seven Democrats who oppose raising the corporate tax rate to 28 percent.
A Fox Business reporter says these 6 or 7 Democrats are against the tax hike, as it "would put the country's competitiveness at risk."
If Manchin is correct about this, the bill might fall apart before it passes through the Senate. President Biden and the Democrats would then have to reconsider the tax increase.
Former POTUS Donald Trump lowered the corporate tax rate to 21 percent but Biden wants to bring it back up to 28 percent. This is a major point of contention for both sides.
For example, it's important to remember that even China's tax rate on American businesses is lower: 25 percent.
Trump was always against the idea of raising the corporate tax rate, and has condemned Biden's as the "largest tax hike in American history." He also called it a "massive giveaway to China."
Republicans continue to rail against the bill in general, saying the legislation goes well beyond railways, bridges, roads, etc.
As Sen. Marsha Blackburn (R-TN) told Breitbart News:
Not even six percent of President Joe Biden's massive $2 trillion 'infrastructure' bill would be used to build roads and bridges.

Biden's plan includes the largest tax hike in nearly three decades, but of course, coastal elites will have their taxes slashed.

It will strip Americans of their right to work by forcing them to join Democrat-backed unions.
Of course, most Democrats haven't voiced a concern with how the money is being spent.
But if those half-dozen or so left-wing officials stand against Biden's bill due to the corporate tax increase, then it likely won't make it through. And they'll have to revisit the plan.
Key Takeaways:
Sen. Joe Manchin believes Biden's infrastructure bill may not pass because he doesn't have the votes.
"6 or 7 Democrats" might vote against the plan, because they don't agree with the corporate tax hike.
Former President Donald Trump has called out Biden's legislation for being a "massive giveaway to China."