Jon Voight Stands Up To Socialism On July 4th, Stands With The Families Of America's Fallen Heroes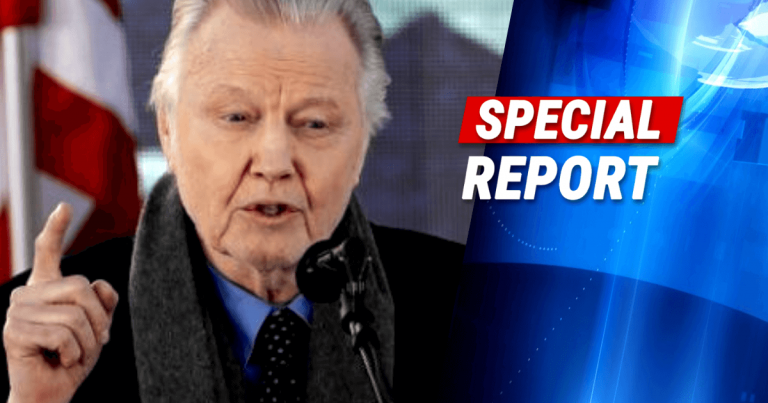 The Hollywood legend stood with some of our very best, and he stole the show!
The sad truth is, there doesn't seem to be many patriots in Hollywood these days. We've come a long way from the days of John Wayne, I can tell you!
But there are a few patriots still left in La, la land. And Jon Voight is one of them.
He stood with the best of our nation on July 4th. Together, they stood up to one of the greatest dangers to our Constitution and way of life.
From Breitbart:
Over 40 Gold Star mothers and wives gathered on the U.S. Capitol lawn for the anti-socialism "Rally for Freedom," joined by outspoken  conservative actor Jon Voight on Independence Day…

"In saying that, I want to tell you, I have never been happier than to be with these assembled families," Voight continued.
Jon Voight joined with over 40 Gold Star mothers and wives to oppose socialism.
He stood proudly with some wonderful Americans who lost family members. These men and women died to protect our freedoms.
They stood up when few did, to ensure we would be safe.
I can imagine a better group to stand up against the left's growing support of socialism.
Watch him speak out here:
According to Trump, Voight and Republicans, socialism is a cancer that would destroy our economic independence, not to mention erase our religious, speech, or gun rights.
Voight was not afraid to back these brave Americans. He didn't care if his support of them and our values would hurt his reputation.
The celebrated actor put his name on the line—because he truly believes in our country.
How many "luminaries" in Hollywood are willing to do that? Most of them shy away from taking a stand on anything.
Except for the ones standing up for terrible ideas!
SHARE if you stand with Jon Voight and the families of our fallen heroes!
Source: Breitbart