Jim Jordan Pulls Back Curtain On Comey – New FBI Evidence Uncovers Scheme Against Flynn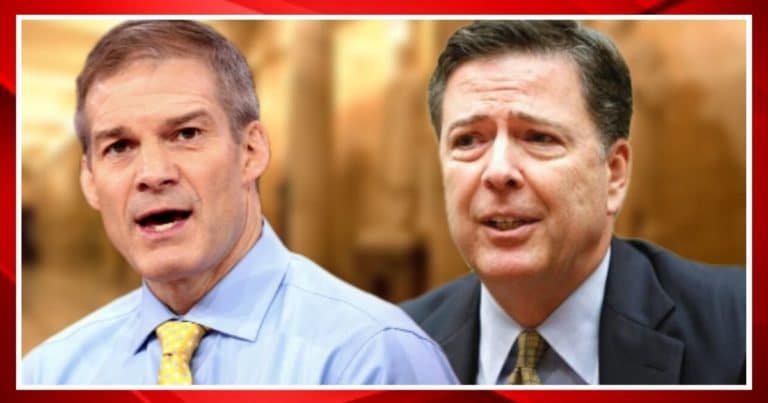 Not much was happening in the pending case against former White House official, Michael Flynn. But suddenly, the situation has started boiling over.
Many patriots believed this man was set up by Obama's FBI holdovers. His case was used by the media to cast fuel on the "Russian collusion" narrative. But new evidence recently released has blown the lid off this story.
Now, Jim Jordan just pulled back the curtain on the whole affair.
From Fox News:
We already knew that James Comey's FBI was out to get General Flynn and President Trump.

But it was worse than we thought.

Comey's failures were part of a larger pattern of misconduct and politicization at the FBI.

Durham is coming. pic.twitter.com/gLfW2n7zVI

— House Judiciary GOP (@JudiciaryGOP) April 30, 2020
Rep. Jim Jordan, R-Ohio, went after former FBI Director James Comey for his handling of the investigation…

Jordan, the ranking member of the House Oversight Committee, told "Fox & Friends" Thursday that Comey displayed "arrogance" and "ego" with the way he spoke about the Flynn case.
Rep. Jim Jordan called out former FBI director James Comey over his handling of this case. Jordan said Comey's failures were "part of a larger pattern of misconduct and politicization at the FBI."
Many on the left dismissed conservatives when we questioned what was happening to Flynn. Trump's former National Security Adviser appeared to be cooperating with officials.
Then he was charged with lying to the FBI. Although that is often just a "process crime," he was strung up like an enemy of the state.
You didn't have to have a wild imagination to wonder if this was a part of a deep state move to hammer Trump allies. The Mueller investigation was just around the corner, after all.
Now, new documents suggest Obama-era FBI agents deliberately tried to trap Flynn. One document reads that some thought the FBI's "goal" was "to get him to lie, so we can prosecute him or get him fired."
Really changes all of this, doesn't it?
Because Comey was at the center of all this, Jordan is accusing him of using the FBI for his own agenda. Comey was the one who sent men to question Flynn. Soon after, Flynn was being charged with a crime.
We all know about James Comey. And it seems, the more we learn about him, the more we have to question his motivations.
Was Comey a Democrat operative trying to take down the new Trump administration? Was he working with Obama, Clinton, or the deep state to undermine our entire democracy?
Or was he a career D.C. official who was trying to pull strings to get what he wanted?
Could be none of those things. But what are the odds that Comey was doing the right thing for the right reasons?
SHARE if you stand with Flynn, not Comey.