Jim Jordan Pulls Back Curtain On Obama – Shows How Trump Has Dominated Foreign Policy Despite Democrats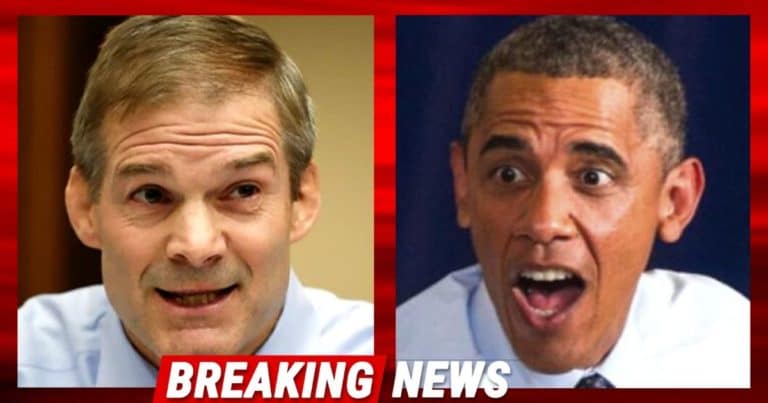 For the last three years, Democrats have stood in Trump's way as he's worked to make America better.
They try to paint him as a failure, when the only people blocking progress is them!
Think about the countless accomplishments Trump has achieved in his first time. The Democrats opposed every last one of them.
Right now, House Democrats are talking about limiting Trump's ability to keep us safe. They are actually upset he defeated a one of our greatest enemies.
But Rep. Jim Jordan just exposed what's really going on. And it makes Democrats—and their idol Obama—look pretty bad.
From Twitter: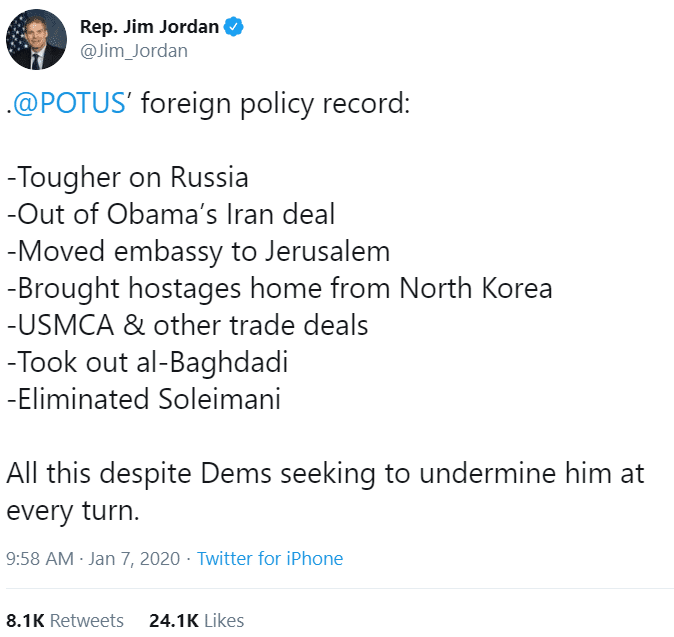 [email protected]' foreign policy record:

Tougher on Russia
Out of Obama's Iran deal
Moved embassy to Jerusalem
Brought hostages home from North Korea
USMCA & other trade deals
Took out al-Baghdadi
Eliminated Soleimani

All this despite Dems seeking to undermine him at every turn.
Boom. Jordan listed the truly historic accomplishments of Trump's foreign policy. It makes Obama look like a total failure.
Trump has been tougher on Russia, than Obama's Secretary of State Hillary Clinton and her "reset" button.
President Trump got us out of Obama's Iran deal, which would have given the rogue nation nukes.
He moved the U.S. embassy in Israel to Jerusalem, something no other president was brave enough to do.
Trump brought hostages home from NK, scored numerous trade deals, killed the founder of ISIS, and most recently, defeated Iran's top general.
What the heck did Obama do all those years? Oh yeah, he may have helped create ISIS.
Hmm… I think I know what the Democrats are really trying to do.
They are embarrassed that their "greatest" modern president was completely ineffective.
Trump is running circles around Obama's record. And Democrat, once again putting their egos ahead of our good, are trying to stop him.
Let's make sure they fail again.
SHARE if you think Trump is doing a (much) better job than Obama!
Source: Twitter