Jim Jordan Pulls Back Curtain On Pelosi – On Impeachment Day, She Gave Him Only 3 Hours To File Amendments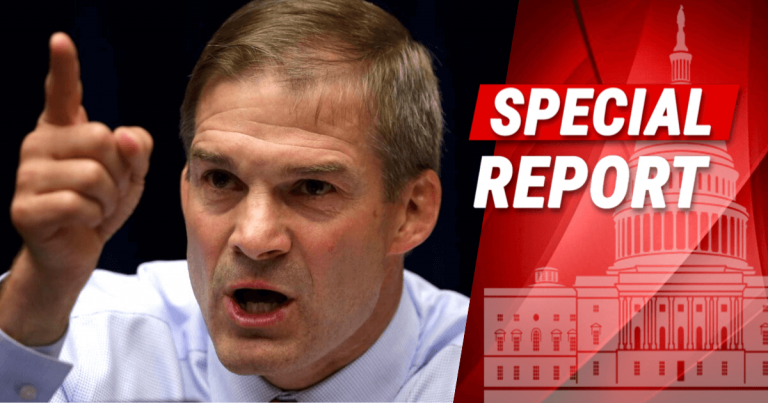 Nancy thought she would get away with it – but Jim's too fast for her!
Pelosi claimed impeachment has been a bipartisan endeavor to hold the president accountable. Or, at least, they once claimed impeachment must involve both parties to be fair and legit.
Then why have they refused to let Republicans be a part of this process? Schiff banned Republicans from having a say in hearings.
Nadler stacked the deck in his hearings with clearly partisan Democrat "witnesses."
Pelosi and other House Democrats refused any input from ranking Republican members of these committees.
And now, Jim Jordan just revealed the last trick these Democrats have pulled in this charade.
From Twitter: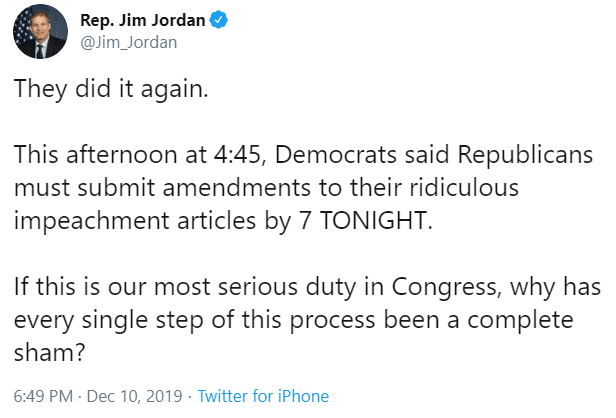 "They did it again. This afternoon at 4:45, Democrats said Republicans must submit amendments to their ridiculous impeachment articles by 7 TONIGHT. If this is our most serious duty in Congress, why has every single step of this process been a complete sham?"
Jordan revealed that only at 4:45 PM did Democrats, led by Pelosi, give Republicans a chance to submit amendments to their bogus impeachment articles.
Fifteen minutes before the end of business day, they told Republicans about this. They gave Republicans a whopping two hours and fifteen minutes to go over the articles and draft reasonable amendments.
That suggests Pelosi has no intention of even looking at Republicans' amendments.
Come on, as if they would! This impeachment has been a partisan hack job from day one. Republicans don't support it. Any amendments they submit would undermine the left's ridiculous attempt to remove Trump from office.
This little play is the last nail in the left's gross, unfair, and ultimately un-American scheme to impeach Trump.
They never let Republicans have an equal chance to question witnesses, reveal evidence, or defend the Leader of the Free World. Because Democrats knew that if they did, Republicans would blow the doors of this sham.
If Democrats were sincere about this whole thing, they would have wanted Republicans to play an equal part. That would have helped convince Americans that this impeachment was needed, and not a partisan scheme.
But Democrats never did that, because they know—deep down inside—that this was a joke.
I can't wait to see what the Senate does with this.
SHARE to tell America what Democrats are trying to pull!
Source: Twitter