Jim Jordan Drops New Impeachment Deadline – Sends Pelosi Racing Days Before The State Of The Union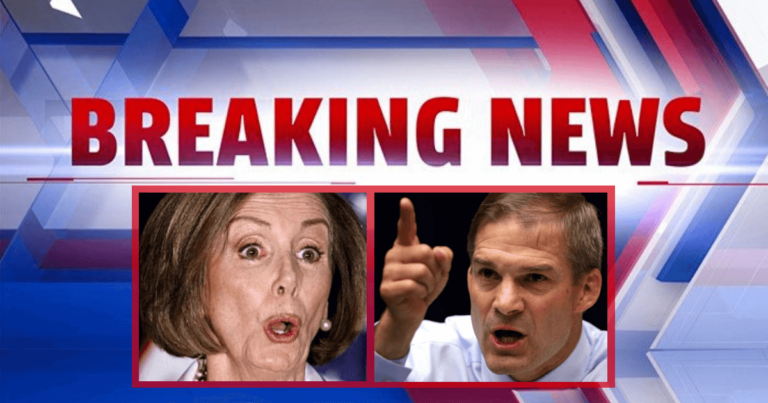 The American public has had to endure this impeachment for over five months now. It has felt like an eternity!
Democrats wanted to rush it because it was so "urgent." But then they've dragged their feet every step of the way.
I think it's safe to say most Americans are exhausted by the media's nonstop coverage. Making matters worse, Democrats want the trial to last even longer with more witnesses.
If they had their way, this thing could be dragged out for many weeks, even months.
But Rep. Jim Jordan has a different take. After watching how the Democrats have handled themselves in the Senate, he has some bad news for Pelosi.
From The Hill:
Rep. Jim Jordan (R-Ohio), one of the members of Trump's legal defense team, said he thinks the Senate impeachment trial will wrap up by late next week and that senators will go for a vote without witness testimony…

"I think it looks good for the president."
Boom! Jim Jordan predicts that the Senate will wrap up the trial by the end of next week. In fact, he said the Senate will vote to acquit without even calling witnesses.
Jordan points to how the Democrats have performed in the Senate trial. They've been "talking for this long and not seeming to move anyone."
Ratings are down, too—the American people are tuning in less than a decent night of Jeopardy!.
That's a pretty good take on it. Moderate Republicans are rejecting the left's demands thanks to Nadler accusing them of a "cover-up."
The fact that Democrats dragged out hearings into the wee hours while Trump's team kept their presentation short doesn't help them either.
I, like Jordan, wouldn't be surprised if the Senate moves right away with a vote to dismiss. Especially after Trump's legal team gets to give their opening arguments.
And for those worrying about John Bolton, Jim Jordan has said it doesn't make a lick of difference in the Democrat case.
Just think of it. In just weeks, we might be seeing an acquitted president speak to the nation, with Nancy Pelosi right there behind him.
She'll have to sit there and listen to the man she tried to take down.
And you better believe Trump won't let the night go without bringing up the left's impeachment! He will wear it as a badge of honor: "impeached by radical liberals."
Then President Trump will torch them over their attempts to remove him from office during a crucial election year.
SHARE if you want this impeachment trial over this week!
Source: The Hill