Jim Jordan Pulls Back Curtain On Nadler – Jerry's Using Impeachment As A Cover To Push Through The FISA Bill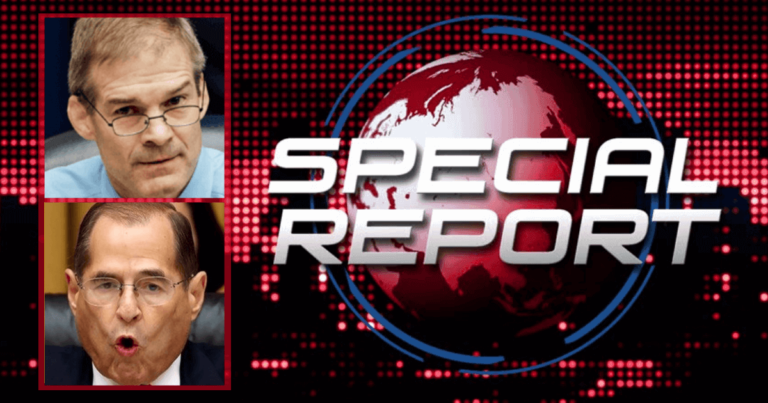 Jordan just caught Big Jerry – Democrats can't hide it now!
It seems that, as usual, the Democrats are trying to be sneaky. But not just over this impeachment push.
While the fake news media hypes up the impeachment hearings to no end, other House Democrats are trying to ram bills through Congress.
I guess they thought nobody would be watching them. Big mistake.
Jim Jordan called out Jerry Nalder for trying to pull the wool over America's eyes.
From Twitter: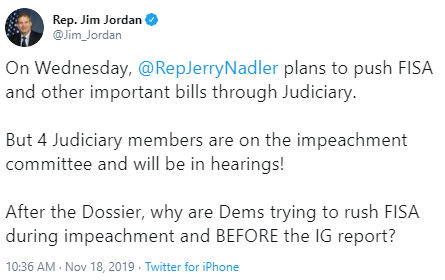 "On Wednesday, @RepJerryNadler plans to push FISA and other important bills through Judiciary. But 4 Judiciary members are on the impeachment committee and will be in hearings! After the Dossier, why are Dems trying to rush FISA during impeachment and BEFORE the IG report?"
Wow. Jordan called out Nadler's attempt to push through a FISA bill and other important pieces of legislation.
A big problem with that is four of the Judiciary members are busy with impeachment. How is that committee supposed to approve bills, when their members are elsewhere?
Sounds a lot like Nadler is trying is ram these bills through before other members of Congress get to look at them.
And he's doing this just days before the IG report comes out and probably condemns the FISA court and the way Democrats have used it. No wonder he's rushing it through.
This is not a huge surprise. Democrats have crafted this entire impeachment push simply as a big distraction.
Nothing on Trump is likely to stick. It doesn't look like they have any hard evidence he tried to pressure Ukraine to do his bidding.
The transcript showedthat over a month ago. And Schiff's "star" witnesses couldn't even point to a thing Trump did that was impeachable.
This has clearly been a sham to turn Americans against the president. Why shouldn't we believe it's also a distraction so that Democrats can force bad bills through Congress?
SHARE if you want Nadler's trick exposed and shut down before he gets a chance!
Source: Twitter