Jordan Exposes Pelosi's Impeachment Bill – Nancy's Planning To Cut Trump And Republicans Out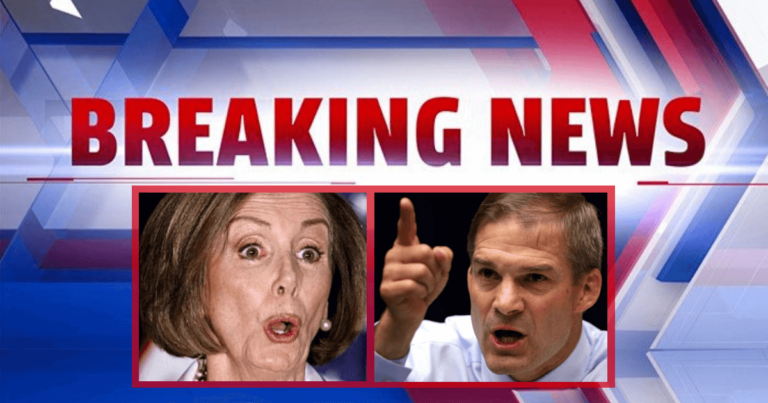 Jordan strikes again – now Queen Pelosi is scrambling!
Thank goodness for Jim Jordan. As the Democrats conduct this circus of an impeachment inquiry, Jordan is the only one holding them to the light.
From the very beginning, he's blown the whistle on the Democrats scheming. He's exposed their tricks to keep the facts from reaching the American public.
Now, he's caught them in what could be their worst sham yet.
After a month of carrying out hearings with no vote, they suddenly want to bring it to the House.
But Pelosi is still trying to bend the rules in her favor.
From Twitter: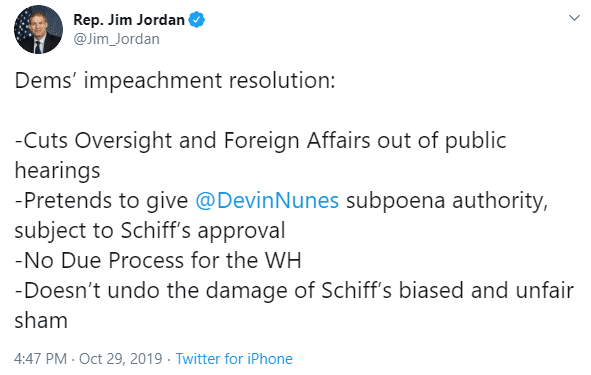 "Dems' impeachment resolution:
-Cuts Oversight and Foreign Affairs out of public hearings
-Pretends to give @DevinNunes subpoena authority, subject to Schiff's approval
-No Due Process for the WH
-Doesn't undo the damage of Schiff's biased and unfair sham"
Wow. Jim Jordan calls out Pelosi's "impeachment resolution." According to what he's read, the Democrats are trying to stack the deck in their favor.
They are trying to deny Republicans and the president any chance at a fair inquiry.
The White House refused to comply with the Democrats' bogus impeachment scheme until a formal vote.
Yet this resolution will deny the president the right to due process—something every American deserves.
They still are trying to keep his accuser's identity a secret, a violation of the president's rights.
They don't want Republicans able to conduct their own hearings and investigations.
It's clear Pelosi is just playing a game. She knows she has nothing on the president, but she wants to drag this out as long as she can—hoping it will hurt Trump.
Jordan is demanding the Democrats start acting like adults. He's holding them to the same standards as everyone else.
But it seems like Democrats will refuse to give the president a fair hearing.
SHARE if you think this whole impeachment process has been an unfair sham!
Source: Twitter