Jim Jordan Pulls Off Pelosi's Impeachment Mask – 3 Pieces Of Evidence Show Her Plan Has Fallen Apart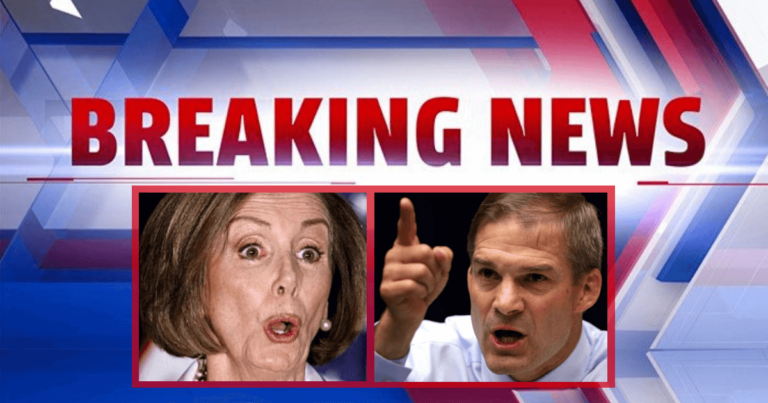 Rep. Jim Jordan has been fighting the good fight since impeachment began.
And he's been more effective than some might think.
No, he wasn't able to stop Pelosi from pushing her bogus impeachment articles. But he has made sure Americans see impeachment for what it really is.
Nancy Pelosi hasn't sent over her impeachment articles to the Senate.
So, Jordan is casting a floodlight on what she's really doing.
From Twitter: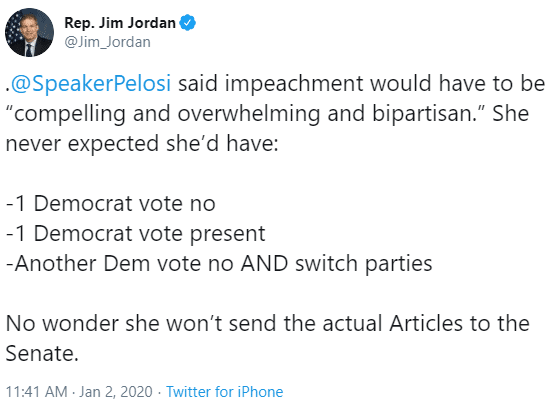 .@SpeakerPelosi said impeachment would have to be "compelling and overwhelming and bipartisan." She never expected she'd have:

-1 Democrat vote no

-1 Democrat vote present

-Another Dem vote no AND switch parties

No wonder she won't send the actual Articles to the Senate.
Jim Jordan took to Twitter to prove Pelosi's impeachment was a partisan sham.
Once upon a time, Pelosi claimed the House should only impeach a president when the evidence was "overwhelming" and the support was "bipartisan."
She said this, of course, in the 90s when her party's president was being impeached (an impeachment that had bipartisan support.)
Today, she's ignoring her own advice by pushing an impeachment without a single Republican on board.
Not one Republican voted for impeaching Donald Trump.
On top of that, Jordon points out a few inconvenient facts for the Speaker.
One Democrat voted no to impeachment. Another voted "present" as a form of protest. And a third even switched parties and voted no.
And according to reports, most Democrats voted yes out of fear they'd lose financial support from the DNC for the upcoming election.
Not great, Nance. You promised a bipartisan process. Instead, you proved impeachment was merely a political hit job.
Maybe, just maybe, you should have listened to your younger self. And never bothered with this in the first place.
SHARE to expose what has really happened to Nancy's impeachment!
Source: Twitter