Judge Jeanine Sideswipes Fox News – They Suspended Her, And Now She Thinks They're Planning To Fire Her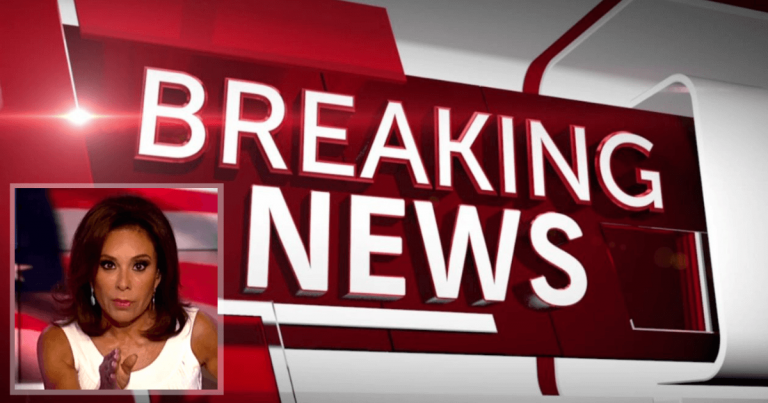 Fox is doing Judge Jeanine wrong, so she's speaking out!
Judge Jeanine has acquired a reputation as a bold and uncompromising media personality, but she just upped the ante bigtime.
A former judge, she often hits issues of crime and justice hard. She's not afraid to speak her mind, even when it's not popular—or profitable.
So, it should not be a surprise that she ruffles some of the corporate feathers of her company, Fox News.
Recently, it seems like Pirro went too far, according to the network, and they pulled her off the air.
Now, during a hot mic moment, Pirro admits what she thinks Fox was trying to do all along.
The judge's fans won't be happy.
From Washington Examiner:
Fox News host Jeanine Pirro was caught on a hot mic Tuesday disparaging her network for the way it controls her schedule…

She added, "You know what, they suspended me. And I'm not going to get fired. You know I'm worried that that suspension was the basis to tee up for anything I do wrong, they'll fire me."
According to what Pirro believes, Fox News was trying to find a basis for firing her.
Pirro got in hot water after criticizing Rep. Ilhan Omar. You'd think viewers of Fox News would agree with her sentiments.
But the network caved to advertisers who threatened to leave. The sad reality is, truth is often oppressed by the mainstream media over money. Even so-called "conservative" news networks.
Pirro was suspended and she claims the network was looking to fire her.
Fox News has made plenty of blunders in the past. They have fired hot personalities, loved by millions, over pathetic complaints by left-wing companies.
Why should a conservative network worry about obvious attempts by the left to silence facts and truth?
Is Fox News even a conservative network? Why would they harass a top host like Pirro, unless they don't like what she has to say?
It's something that viewers have to ask themselves. As the left tries harder and harder to suppress and censor conservatives (across all media platforms), we need to support the voices who continue to speak their minds.
And if Fox wants to fire Judge Jeanine, it would be a massive mistake.
SHARE if you support Judge Jeanine keeping her job!
Source: Washington Examiner