Anti-Trumper Jussie Smollett Indicted – Grand Jury Charges Him With 6 Counts Of Disorderly Conduct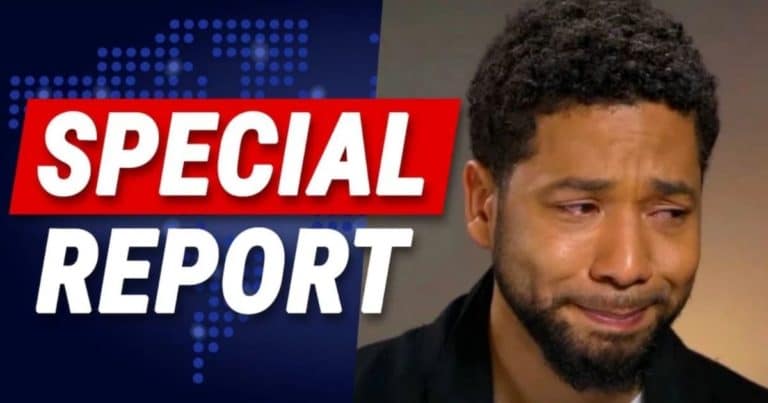 Jussie Smollett probably thought it was over.
After the charges against him were dropped last year, the former "Empire" actor likely believed he was in the clear.
After all, a Cook County judge dismissed Smollett's case in 2019. And that could've been the end of the whole situation.
But Jussie just got some very bad news…
Many citizens believe Smollett staged a false crime. And now, at long last, it appears he's finally facing punishment.
Okay, it might be a little late in the day, but at least it's happening!
From ABC News:
Former "Empire" actor Jussie Smollett was indicted Tuesday by a grand jury in Chicago after a special prosecutor re-investigated allegations he falsely reported being the victim of a January 2019 hate-crime attack, officials said.
That's an official indictment by a grand jury — there's no wriggling out of THIS one!
It's no laughing matter, and the charges are pretty serious:
Smollett faces six counts of disorderly conduct related to making four false reports to the Chicago police department.
Special prosecutor Dan Webb said:
…the grand jury's investigation revealed Smollett 'planned and participated in a staged hate-crime attack.'
Furthermore, Webb claims Smollett made "numerous false statement to Chicago Police Department officers on multiple occasions."
As a result, "reasonable grounds exist" to pursue real consequences for the actor.
I've got just one thing to say in response: it's about time!
It seems they have enough evidence to prove that Smollett lied. And if he lied, he should absolutely pay the price for those lies.
In one of his statements, Smollett claimed he was "truthful and consistent." But the grand jury doesn't see it that way.
And if he did in fact stage this crime, he absolutely should be prosecuted to the fullest extent of the law.
If he had gotten off scot-free, that sets a very dangerous precedent. Celebrities get away with too much already!
Justice must be done!
SHARE if you believe Jussie Smollett is GUILTY!
Source: ABC News