Justice Department Report Blindsides Comey – They Put His Violations On Full Display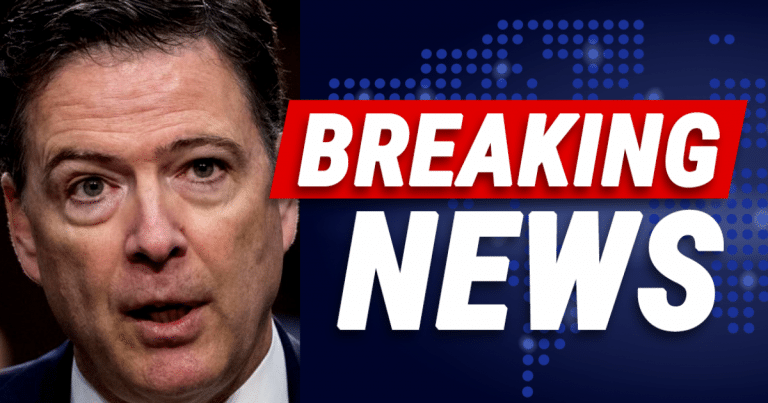 James Comey was, at one time, head of the FBI. As Director, he was responsible for handing the country's biggest investigations.
But what we've learned over the last few years is that Comey wasn't acting to the high standards of the agency. In fact, he frequently violated what the FBI should or shouldn't do, based on his own personal views.
Comey testified before Congress how important the FBI's work is. He even told Trump himself that leaks harm their ability to enforce the law if everyone know what the FBI is doing.
Well, the Justice Department has released a report on Comey's own handling of memos. Turns out, Comey's tendency to leak sensitive information to the press was a violation of everything the FBI represents.
From Lawfare:
"After his removal as FBI Director two months later, Comey provided a copy of Memo 4, which Comey kept without authorization, to Richman with instructions to share the contents with a reporter for the New York Times…
Woah.
Comey leaked sensitive information in the form of a memo to a buddy. He told his buddy to leak it to the NYTs. That lead to a flood of left-wing reports that insisted Trump had colluded with Russia and should be impeached.
All the frustration and nonsense that we had to deal with over the last two years was because of Comey.
The DOJ goes on to say that Comey acted unilaterally and inconsistently with FBI policy.
"Former Director Comey failed to live up to this responsibility. By not safeguarding sensitive information… and by using it to create public pressure for official action, Comey set a dangerous example for the over 35,000 current FBI employees…
The report clearly states that Comey was not supposed to hold onto that information. He violated agency rules and policy by leaking it to the public.
It seems he did it just to put pressure on the government so they would investigate the president.
The DOJ condemns Comey over his actions. They say that if all of the past and current FBI agents followed his lead—leaking information because of their personal views—then there would be chaos.
The FBI would not be able to do its job. Worse than that, Americans would cease trusting the federal government to protect and enforce the law.
Listen, the FBI's reputation is already in the toilet, thanks to Comey. It could get much worse if other agents follow his lead.
The DOJ is brutal when they expose Comey's reckless and dangerous decision to leak that memo. Clearly, Comey was motivated by either politics or personal resentment.
Perhaps he was angry that Trump fired him (even though he was spying on the president while at the FBI). Or perhaps he was truly concerned that Trump worked with Russia. Regardless of the reason, he made the situation so much worse, when he leaked information.
The OIG has handed over its report to the FBI and the DOJ's Office of Professional Responsibility for "action they deem appropriate."
Hey guys, how about actually holding Comey accountable for what he did? He endangered the FBI and the entire nation with those leaks. He could have undermined our democracy for years to come by spreading dangerous rumor and hearsay.
Shouldn't that warrant a punishment?
SHARE if you think Comey needs to answer for what he did to America.
Source: Lawfare