Kamala Harris Slapped with Nightmare Report – She Just Broke a Terrible 30-Year Record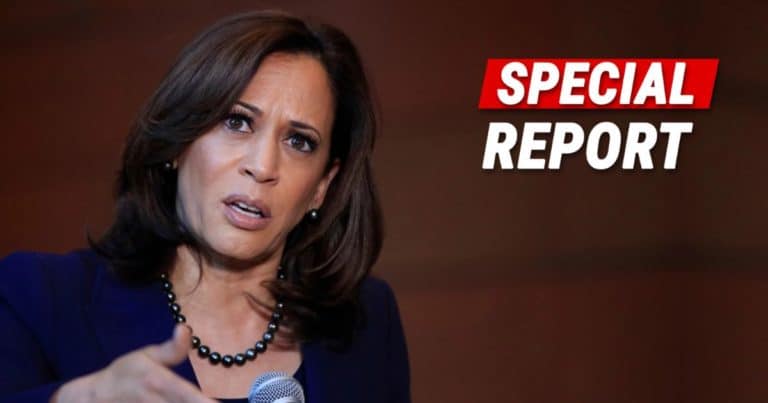 What's Happening:
Oh, snap, Joe! What has she done? What has she done?
Vice President Kamala Harris has cackled her way into the political record books once again. This poor excuse for a checklist candidate has failed another "reboot" by the Biden administration. She is literally upside down in the eyes of voters.
How much more of an albatross to Biden's political future will she be? Presidential primaries are heating up and if Joe wants to win in 2024, he needs a running mate who can consistently pronounce her own name.
Or at least she must do something that makes voters like her. Kamala is not sinking fast in the polls; she has hit an historic bottom. No vice president in almost 30 years has been this bad.
From The Daily Wire:
A poll conducted this month shows 32% of registered voters have a positive view of the Democrat while 49% have a negative view of her. The resulting net-negative rating of -17 is "the lowest for any vice president in the poll's history," NBC News reported on Monday. It also noted that 39% have a "very negative" view of Harris.
Kamala brought this on herself with policy failure after policy failure and, as The Daily Wire noted, her public speaking appearances that have become fodder for mockery thanks to a constant flow of "word salads."
Kamala's bumbles and mumbles aren't helping Biden. He has voter ratings that don't inspire hope for Democrats.
From the Daily Wire:
The new poll from NBC News also found growing anxiety concerning Biden's fitness to serve, as more than two-thirds of registered voters — 68% — said they have moderate to major concerns about him "not having the necessary mental and physical health" to be president.

And only 43% said they approve of Biden's job performance while 53% disapprove.
"Unimpressive" is not a strong enough word to describe the failures of this woke duo. Joe's numbers are propped up by the regime mainstream media and Kamala is as low as it gets in the polls and in policy.
Biden may soon be forced to put on his big boy trousers and make a decision about tossing Kamala overboard for a replacement on the ticket.
It's too early to make sinking ship analogies here, but that should be enough to give you a picture of where Joe is headed on the Democrat ticket. He can no longer ignore the data in front of him or his reelection campaign will be turned into a blockbuster disaster story.
But then again, half the country would love for him to keep Kamala onboard as his political anchor and watch the disastrous storyline unfold further.
Key Takeaways:
Kamala Harris haunted by nightmare poll numbers just released.
Joe is barely hanging on with Democrat voters as the election heats up.
"Word salads" and bad policy sink Kamala to historic lows with voters.
Source: The Daily Wire