Kamala Suffers Her Worst Moment Yet on Live TV – And the Audience Makes Her Pay for It with Embarrassing Silence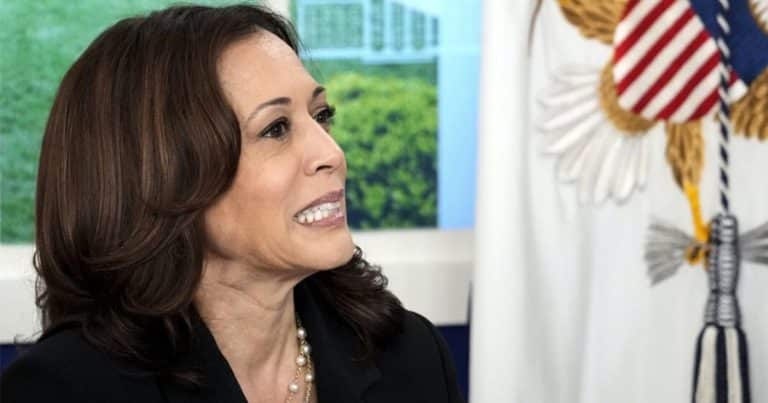 What's Happening:
Ugh. I think we can all agree that Joe Biden is a poor excuse for a president. The man shuffles around like a nursing home patient, slurring his words and looking for all the world like a zombie. But, if it's even possible, his second in command is worse. Kamala Harris is little more than an inflated balloon of hot air.
Her embarrassing failures have forced the administration–full of incompetent idiots–to put her on the shelf. She has done nothing of consequence since entering office. And it seems even the most loyal supporters are not impressed with her. She was slotted to speak to a (pretty small) group of college students. And as she entered the room, they had to be reminded to do this.
From Fox News:
Following Vice President Kamala Harris' event with students from historically Black colleges and universities, critics observed the audience initially neglecting to clap for her after she was introduced…

"The audience had to be reminded to clap for the vice president," Hannity said. "You really can't make this up."

"They still didn't clap, then it got worse with yet another rant about Venn diagrams," he added, pointing to other clips of Harris speaking about Venn diagrams.
You probably shouldn't watch too much of Harris's speech. Stupidity of that level might lower your IQ. Plus, it's pretty painful to watch the vice president have to beg college students to clap for her–and to see only a handful of them clapping!
What is it with these Democrats? They have the entire mainstream media propping them up. But when they get in a room with supporters… it's death. Probably has something to do with the fact that this administration is dead in the water. There is zero enthusiasm for Harris, Biden, or anyone else at the White House.
Harris rambled on about Venn diagrams. Ooh! That's worth traveling to D.C. for, right? Does this woman realize she is a laughing stock? Probably not. After all, she appeared at an event that was clearly designed to puff up her ego.
Those students didn't want to be there. And nothing was said that added any value to their lives… or the lives of anyone else. It was just an excuse for Harris to gush into a microphone and make it look like she's a real leader.
But nobody's fooled. Not even the poor students who were asked to clap.
Key Takeaways:
Kamala embarrassed herself during an event with college students.
Nobody clapped as she entered, so an aide asked the attendees to clap.
Harris went on to rant about Venn diagrams in a bizarre speech.
Source: Fox News