After Kamala Gets Embarrassed on Live TV – Hecklers Chant Over and Over Outside the Studio, "Lock Her Up"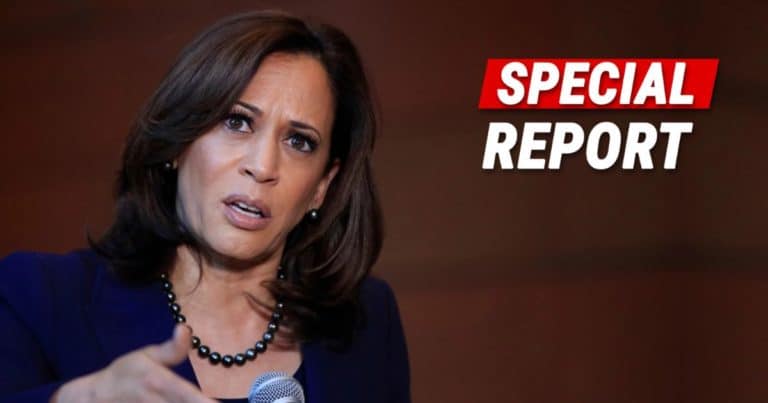 What's Happening:
Is there anyone more irrelevant to the national conversation than Kamala Harris? Yes, she's the "vice president," but that makes that fact all the more pathetic! The woman was a token Biden used to win over the minority vote. She had one chance to prove to the world she deserved that job. Instead, she humiliated herself again and again.
Recently, she popped up to do an "interview" with Stephen Colbert. Ugh…
Jesus, Kamala. Quit cackling and acting like a damn fool. You're an embarrassment to this country.

— Juanita Broaddrick (@atensnut) March 16, 2023
Yeah, it was the usual puff piece that lacked any substance or meaning. Imagine if Mike Pence had been this idiotic? But, after Kamala got her butt kissed by Colbert for fifteen minutes, she was treated to a rude awakening outside.
From The Post Millennial:
A small but vocal group of protesters gathered outside The Late Show with Stephen Colbert's New York studio on Wednesday afternoon to heckle Vice President Kamala Harris, who was in town to pre-tape a segment.

Yelling "lock her up," waving signs, and chasing after her motorcade, the protesters cursed and screamed at her as she was leaving.
Wow. Who would have thought those three words would get so mile? First, for Hillary, then for Joe, and now for Harris. After being treated with kid gloves on the Late Show, Kamala was heckled by protesters outside the building.
They were waiting for her to come out the door. When they spotted her, they shouted "Lock her up!" And they proceeded to jeer this member of the Biden administration over not just her failures, but the ongoing failures of the entire White House.
They blame Joe for the mandates, pressure, the great reset (a move by globalists to erase our liberties), and the war in Ukraine. Oh, that's just for starters, kids! Biden and Harris are guilty of so much more. Let's not forget the open border, fentanyl deaths, exploding crime, and rampant inflation. Not to mention so much government spending it looks like highway robbery.
No doubt, Kamala rushed into her car, quick to drown out the sounds of the American people. I'm sure her cackling did the trick. But we're not going away, Madam Vice President. You and your corrupt administration will be held accountable for the way it's run America into the ground.
And come 2024, more than a few protesters will make their voices heard.
Key Takeaways:
Kamala Harris appeared on Stephen Colbert's for a puff-piece interview.
As she was leaving, she was heckled by protesters outside the building.
They chanted "Lock her up!" as she was ushered into the motorcade.
Source: Twitter, The Post Millennial