Kari Lake Stuns the Nation at Super Bowl – Liberals Are Melting Down Over Her Move to Sit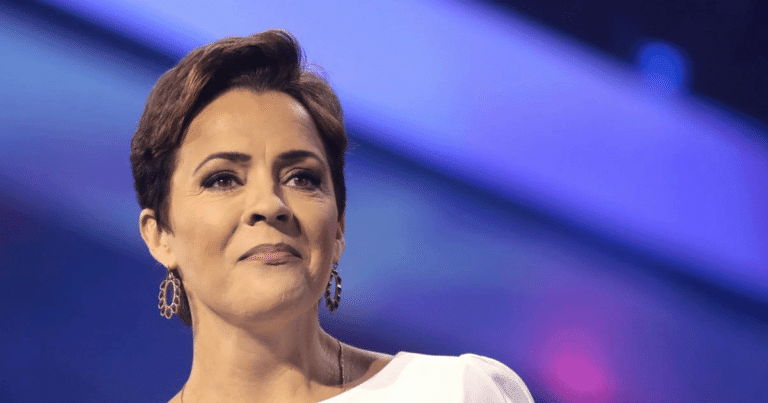 What's Happening:
There were more than a few memorable moments at this year's Superbowl. Of course, the most notable ones weren't on the field. The NFL did right by Americans, by playing a rousing version of our National Anthem by Chris Stapleton. But, of course, to appease America-hating leftists, they first played the "black" National Anthem.
This song is being pushed by activists as a way to divide Americans even further. Why should one group get their own "anthem" and the rest of us the real one? It is yet another attempt by the left to drive a wedge between black Americans and the rest of the country. But while this song was being played, someone noticed Kari Lake's reaction.
From Twitter:
The @NFL played two different "National Anthems" tonight. Someone just sent me a photo of @KariLake sitting during the first one.
The @NFL played two different "National Anthems" tonight. Someone just sent me a photo of @KariLake sitting during the first one. pic.twitter.com/HVdiu5xRBG

— Benny Johnson (@bennyjohnson) February 12, 2023
A photo of Republican Kari Lake went viral. During the so-called "black" National Anthem, Kari Lake refused to stand. She commented on the post by Benny Johnson saying " I'm just here for THE National Anthem."
The picture quickly went viral, being seen by over 6.5 million viewers. Lake is doing more than just refusing to stand for a song. She is striking a blow against years of disrespect shown by numerous professional athletes.
Although it might be in the rearview mirror for some, we can't forget how numerous athletes, from every major sport, refused to stand for the National Anthem. These highly-paid hypocrites insulted the country that let them earn millions for throwing a ball.
And the liberal media praised these men and women as if they were heroes (meanwhile, the left still attacks real heroes like our police officers). The "black" National Anthem was a pathetic compromise with NFL players. They often play this song before the real National Anthem as a way of reminding Americans that white people are racist and black people are innocent victims.
But Lake refused to bend the knee or, in this case, stand for this ugly attempt at dividing Americans. When will the left end its hate-driven agenda to turn black Americans against their white neighbors?
Never. For years, Democrats have managed to manipulate black Americans with this race-baiting. And these days they are pushing it even harder, as more and more black voters ditch the Democrat plantation.
Key Takeaways:
The NFL played the "black" National Anthem during the Superbowl.
A picture of Kari Lake sitting during the song quickly went viral.
This was a response to the many athletes who refused to stand for the real National Anthem.
Source: Twitter