John Kasich Just Turned On His Own Party – He Agreed To Speak At Convention For Democrats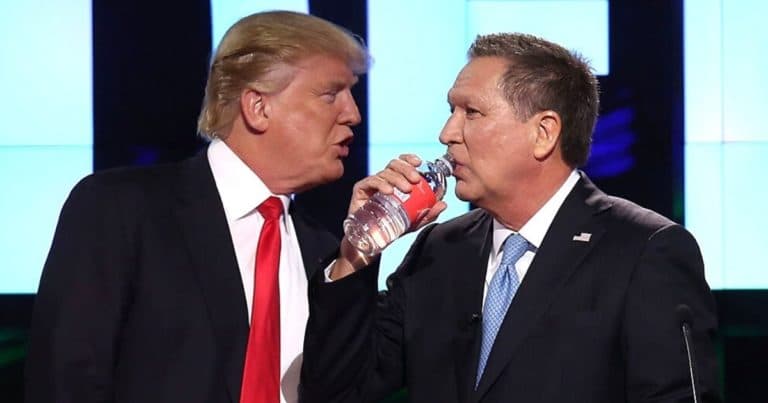 What's Happening:
Remember John Kasich? Probably not. He was a one-time Republican governor of Ohio, who gotten beaten by Trump in the 2016 primaries.
Big surprise, the "conservative" has been an outspoken critic of the president, though it doesn't seem that he's done much for conservatives himself.
He even went on to be a CNN contributor, proving he's not interested in what Republicans think (since they don't watch that network).
But now, he's taken another step to prove he was a wolf in sheep's clothing all along. He is shedding his Republican mask to appear at the Democrats' biggest event:
Former Ohio Gov. John Kasich, a Republican and frequent Trump critic, has been approached and is expected to speak at the Democratic National Convention on Biden's behalf next month, according to a person with direct knowledge of the plans who insisted on anonymity to discuss strategy.
Many have called Kasich, as well as other anti-Trump Republicans "RINO," meaning Republicans in Name Only. It's hard to refute that name when the man is openly rooting for the other guy.
Kasich will even appear at the Democratic National Convention, an event where—last time—a speaker celebrated her abortion. Not really the place a conservative really belongs, huh? Joe Biden promises to undo everything Trump has accomplished over the last four years.
Biden wants to defund the police, open the borders, push "environmental justice," and raise taxes. Nothing in his far-left platform appears to match anything a Republican would want, ever.
So, why is Kasich campaigning for him? He should just come out and admit he is a Democrat.
The sad reality is, Biden isn't getting a "ringer" in Kasich. He lost to Trump after all, proving Republican voters don't want him.
Kasich is far from being a "star" on the right, unlike the many young and enthusiastic people Trump has by his side. Getting Kasich to support Joe is only further proof that Joe is the last person we want in the White House.
But the Republican Party should address Kasich's move. He is deliberately turning against the GOP to help get their rival elected. Shouldn't the party respond?
Perhaps this guy should get ejected from it?
Key Takeaways:
Former Republican governor John Kasich will speak at the Democratic National Convention.
Kasich lost to Trump in 2016 and has been an outspoken critic since.
Kasich is one of few Republicans turning against the party in 2020.
Source: AP News