Kevin McCarthy Drops the Power of Congress on Biden's AG – He Orders Garland to 'Preserve Your Documents' After Raid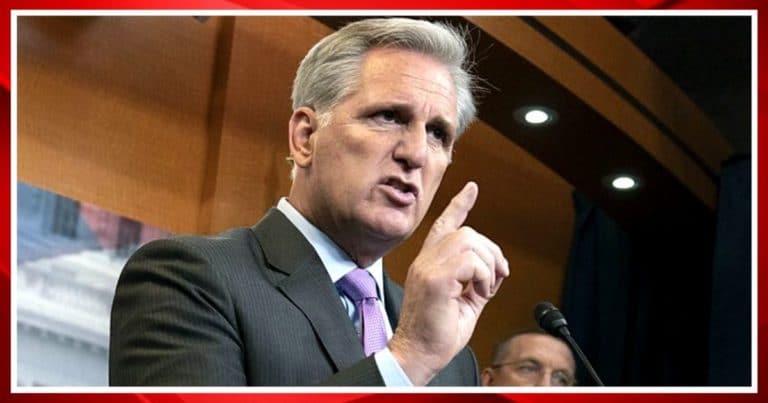 What's Happening:
Republicans did not take too kindly to the news that Biden's FBI raided Donald Trump's home. Reactions ranged from shocked to downright wrathful.
Anyone who doubts the party's loyalty to Trump needs to wake up. Perhaps nobody was more outraged than House Minority Leader Kevin McCarthy—who is poised to become the next Speaker.
And he had some very important instructions for Biden's attorney general.
From Daily Caller:
"I've seen enough," McCarthy said in a statement. "The Department of Justice has reached an intolerable state of weaponized politicization. When Republicans take back the House, we will conduct immediate oversight of this department, follow the facts, and leave no stone unturned."

"Attorney General Garland, preserve your documents and clear your calendar," McCarthy said, implying his intent to bring Garland before Congress should Republicans regain the majority.
This is the exact response we should be seeing from the top-ranking Republicans in the House.
In reality, this should have been the response of every law-abiding member of Congress, given what the FBI did.
The move to raid a former president's home was unprecedented. Few could argue that politics did not play a factor, given who is in the Oval Office.
McCarthy vowed that Republicans will "leave no stone unturned" in investigating what Garland's DOJ and FBI have been up to.
The House Minority leader accused Biden's DOJ of "weaponized politicization."
Keep in mind that most Democrats believe Trump will run in 2024, including Joe Biden. A move by their party (who controls the FBI) to aggressively invade the home of a possible rival is questionable at best.
Remember, Democrats impeached Trump over far less, accusing him of using his power to go after a political rival.
How can they endorse this raid with a straight face?
Reactions from this news suggest that the left's plan backfired. If they thought this would hurt Trump and drive Republicans away from him, they failed miserably.
Republican voters are now rallying around him, even those who previously cooled. And Republican leaders in Congress are vowing to hold Garland accountable for this.
McCarthy told him to clear his calendar. He better well do it.
Key Takeaways:
House Minority Leader Kevin McCarthy vowed to investigate the DOJ over the raid.
The possible future Speaker promised to "leave no stone unturned" in investigating this move.
He accused Biden's DOJ of "weaponized politicization" in raiding a political rival's house.
Source: Daily Caller