Donald Trump Dunks On NBA's LeBron James – The Former President Orders King James To Focus On Basketball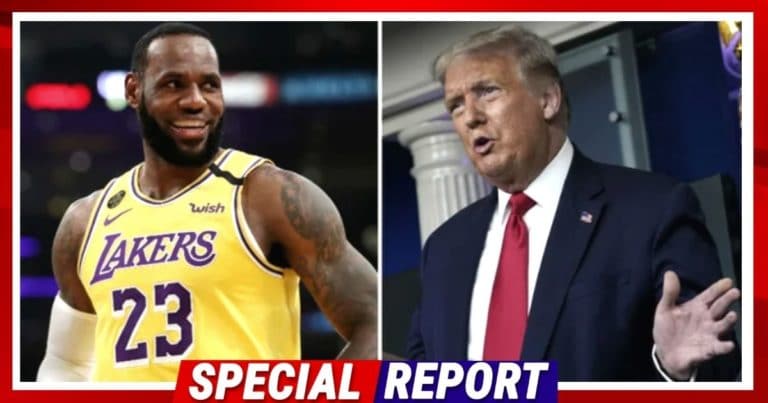 What's Happening:
Can't Hollywood actors just act, and sports players just play sports? Apparently not.
LeBron James often acts out his nickname, "King James." He may be one of the greatest NBA players, but the man needs to think twice before tweeting.
He tweeted out "You're Next" with a picture of a police officer involved in an altercation recently, even though recent details and video seems to vindicate the officer's action.
And Donald Trump jumped in on this one to slam dunk on the King. From The Daily Caller, here's what Trump said:
LeBron James should focus on basketball rather than presiding over the destruction of the NBA, which has just recorded the lowest television RATINGS, by far, in the long and distinguished history of the League," Trump's statement read. "His RACIST rants are divisive, nasty, insulting, and demeaning. He may be a great basketball player, but he is doing nothing to bring our Country together!
Ouch. Donald got right to the point. Maybe LeBron needs to focus on the tanking ratings of the NBA.
The league's numbers should be through the roof right now with so many people stuck at home, but instead they're swirling down the toilet. Why?
Because the league has been playing politics and has turned off a huge chunk of their audience who just want to watch some good sports.
And LeBron just continued this by jumping into the middle of a political debate and jumping to conclusions before all the facts were in.
Conclusions that could put an officer's life in danger.
The media misrepresented the situation as well, even editing out information that showed the girl was wielding a knife.
And even Chris Cuomo and Don Lemon over at CNN admitted that the situation was probably justified.
Do you agree with President Trump – should sports players stay out of politics?
Key Takeaways:
LeBron James sent out a tweet condemning an officer involved in a recent altercation.
Donald Trump released a public statement criticizing LeBron for getting political and divisive.
Source: Daily Caller