Liberals Exposed in Assault on Thanksgiving – Schools and Media Say Patriots Are Celebrating Imperialism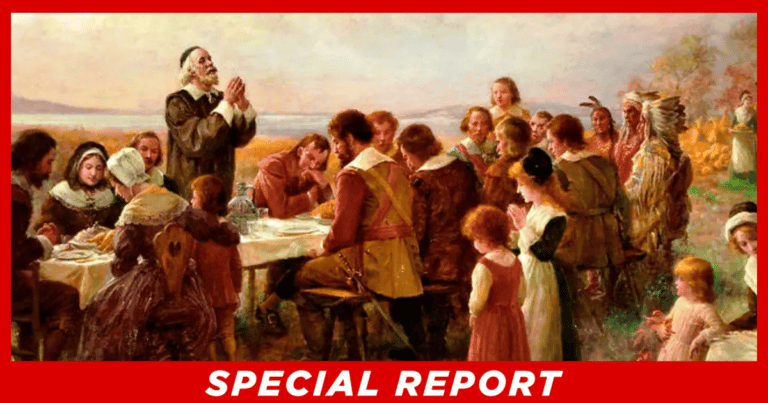 What's Happening:
Is there anything Democrats don't hate about America? We've seen for years how people on the left go to war with nearly every institution. They hate Columbus Day, even though that brave man discovered this land. They have long trashed Christmas, the most sacred day for millions of religious Americans.
But they are far from done. This week, every American family will come together to celebrate a truly American day. So, of course, the left-wing media and "woke" public schools have to trash it. How? By claiming Thanksgiving celebrates "imperialism."
From Fox News:
[A] creeping vilification of the popular holiday has spread across media outlets and schools, claiming that Thanksgiving is about "genocide" and "imperialism." […]

"Instead of bringing stuffing and biscuits, those settlers brought genocide and violence," he said.

"A lot of this stems from the Marxist, anti-American ideology that is pushed in academia that a lot of the journalism school grads have been subjected to," he said…

"…A student at a prestigious New York public high school once told me that the roots of the holiday are found in English settlers' custom of holding Thanksgivings when they killed Indians. That's a gross misrepresentation."
Genocide? Imperialism? You can't really make this up. Thanksgiving marks the time when early settlers of America sat down with American Indians for a feast. Without the help of those natives, the Pilgrims would not have survived the harsh 1621 Winter.
Yet today, leftists claim the Pilgrims–a religious group who worked alongside Indians–were part of "imperialism" that committed "genocide." This is a gross and inaccurate portrayal of Thanksgiving, but it's consistent with the left's attempts to destroy our heritage.
For generations, Thanksgiving was remembered as a moment when European settlers and American natives put aside their differences. It is a day to thank God for what we have and enjoy the good things in our lives, especially family.
It's pretty ironic that people living in America hate Thanksgiving so much. If it weren't for the events of that day, they wouldn't even be here! Isn't it funny how all the people who trash America for being "evil" and "imperialistic" also enjoy all the benefits of this country?
If they hate America so much, why do they even live here? Because they are not trying to right any "wrongs," but brainwash future Americans into hating our history and traditions. So that, they can replace them with godless Marxism and socialism.
Are we going to let them get away with that?
Key Takeaways:
Liberal media outlets are public schools are attacking Thanksgiving for being "imperialistic."
Leftists have distorted the history of the holiday, ignoring the true story.
Critics say this is because they are trying to replace American heritage with Marxism.
Source: Fox News