91-Year-Old Fulfills His Lifelong Dream – And It Involves A Car, A Helmet, And A Garage Door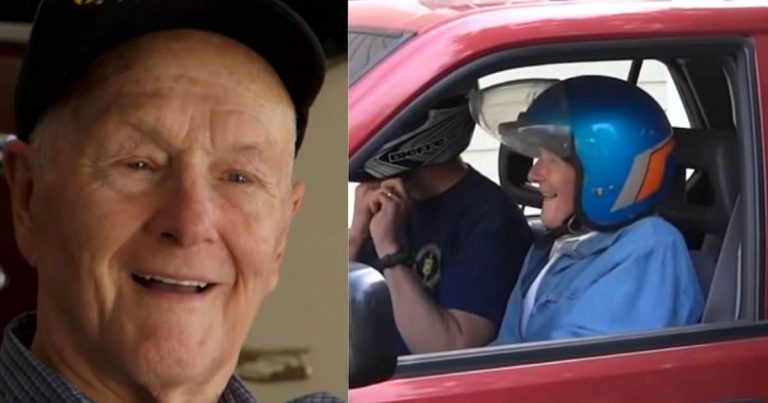 It's the weirdest bucket list item ever – but it sure is satisfying!
We all have goals and dreams.
We all have items on our bucket lists, and we hope we can tackle many of them before our time is up.
Of course, some of us have stranger bucket list items than others…
For example, take 91-year-old Walter Thomas of Woodstock, Illinois. He's a high-spirited senior citizen with plenty of good cheer.
You might think one of his wishes was to go skydiving, or see the Great Pyramids, or something like that.
But in fact, he had a simpler, albeit far weirder, item on his bucket list:
He wanted to take a car and crash through a garage door!
Yes, he told his granddaughter Becky that he'd always fantasized about backing through a garage door, and she decided it should happen.
After all, her grandfather was 91 years old … how many chances was he going to have to fulfill a lifelong dream?
So, Becky found a special demolition car and a garage door that was so old, it needed to go.
Then they dug up a helmet, strapped Walter into the seat, and told him to let 'er rip!
The look on Walter's face afterward is absolutely priceless, isn't it?
Becky said "it was like he was a little boy again," and he certainly had that childlike gleam in his eye!
Maybe that's why he wanted to do it: just to do something crazy and fun, something a youngster might think up.
And now he can cross this off his bucket list and move on to the next thing…
And by the way, he IS considering skydiving. 😉
Source: Good News Network