Lindsey Graham Wrecks Mueller Case – Says New Evidence Shows Mueller's Legal Foundation Is Crumbling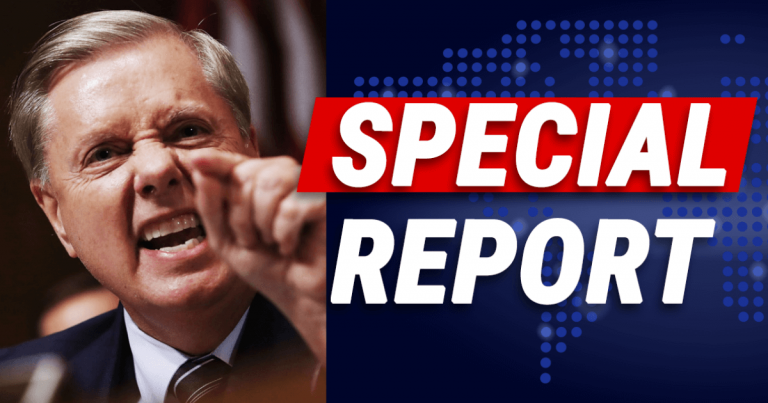 With the release of many documents, we are learning all kinds of things about what the deep state was doing in recent years. That includes the much-discussed Mueller investigation.
New evidence is shaking the foundations of that very probe. And this time, it looks like the government is doing something about it.
Sen. Lindsey Graham is laying it all out for us.
From Fox News:
"The legal foundation for Mueller's appointment is crumbling," Graham said…

"Without the dossier, there is no [FISA] warrant. So they knew that the Carter Page thing was a fraud. They wanted to close the case against Flynn. We have Papadopoulos on record denying working with the Russians, saying to do so would be treason. So the foundation for the Mueller investigation is crumbling."
Woah. Lindsey Graham weighed on the recent revelations, saying the "legal foundation" for Mueller's probe "is crumbling."
Graham discussed a memo he received from the attorney general. He learned that former DOJ official Rosenstein contacted Mueller, asking him to investigate Trump allies Carter Page, Michael Flynn, George Papadopoulos, and Paul Manafort.
The problem? This memo was from August 2017. But there was plenty of evidence the DOJ had before then, which suggested these men were innocent.
In January of that year, the Steele dossier was disavowed. Meaning there was no cause to investigate Page.
The DOJ was also already in the process of trying to close Flynn's case. And they had recordings of Papadopoulos denying working with the Russians.
Yet, despite all this, Mueller was hired to go after these men.
Because of this new bombshell, Graham asserts that there might not have been a legal reason to appoint Mueller in the first place.
Which begs the question, why did Rosenstein go ahead and appoint him, anyway?
Trump frequently called the Mueller probe a witch hunt. Many Americans are convinced he never colluded with Russia, nor did his allies.
Yet we had to sit through a 3+ year investigation, which Graham is openly questioning.
There's enough here for Americans to demand answers. Many feared the deep state was doing the bidding of the left to take down Trump. This new revelation does not help eliminate the fear, does it?
SHARE if you want the investigators brought to justice.