Lindsey Graham Turns The Tables On Democrats – He Claims Their Fresh Senate Plan Is The 'Dumbest' Power Grab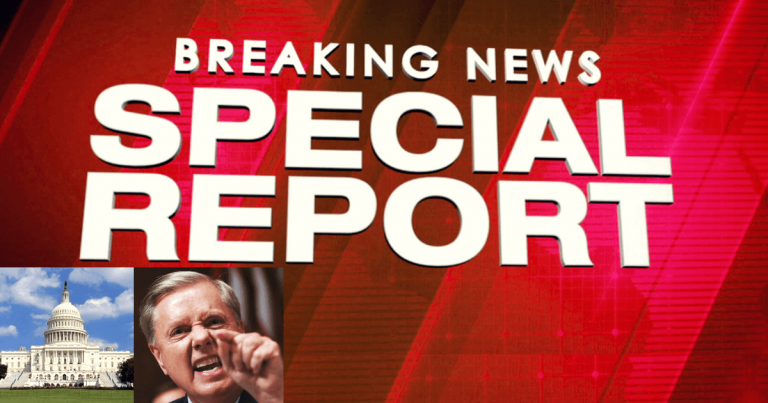 What's Happening:
In recent years, we've seen Lindsey Graham step up and go toe-to-toe with the radical left.
And in the age of Biden, he's not backing down for sure.
Recently, he's criticized Democrats' toxic plans in Congress. He's opposed their bloated spending bills and Biden's hasty policy-making.
He's even urged Republicans to get out of D.C., to block the left's agenda.
Now, he's slamming the left's most recent, outrageous scheme.
From Fox News:
Sen. Lindsey Graham, R-S.C., told Fox News on Monday that the Democratic push to add amnesty to the multitrillion-dollar "infrastructure package" is a "power grab" that may be the dumbest idea in the history of the White House and Senate while there is a border crisis unfolding.

"If you give one person legal status there will be a run on our border like you have never seen before…the dumbest idea in the history of the Senate, the history of the White House. It will lead to the breakdown of law and order beyond what you see today."
Sen. Graham blasted Democrats' attempts to slip amnesty into the infrastructure package being discussed in Congress.
He said it was the "dumbest idea" in the history of the Senate and White House.
Those are strong words, but he has good reason for it.
Because of Biden's weak stance on the border, nearly one million migrants have tried to sneak into the country this year.
If Congress grants amnesty to non-Americans currently living in the country, it would only motivate more people to rush the border.
It would turn the current crisis into a downright epidemic. Our border would be destroyed overnight.
More than that, there is another reason why Graham is blasting this plan.
The current infrastructure bill only has a chance of being passed, because it was crafted with bipartisan support. The rest of Joe Biden's toxic agenda might never see the light of day.
If Democrats try to sneak amnesty into a bill designed to rebuild America, they will lose every last Republican who originally supported it.
The bipartisan bill is already close to failing, thanks to comments by Joe Biden and Schumer. Both Democrats have promised the bill won't go through, unless Biden's other plans go through as well.
And on top of all that, they want to make this bill even more toxic, with the inclusion of amnesty?
These people really are stupid.
Key Takeaways:
Lindsay Graham slammed Democrats for trying to push amnesty into the infrastructure bill.
He called this attempt the "dumbest idea" in the history of the Senate.
The push would encourage more attempts at the border, during the ongoing crisis.
Source: Fox News