After London Mayor Calls Trump A 'Fascist,' Donald Flattens Him With 3 BRUTAL Words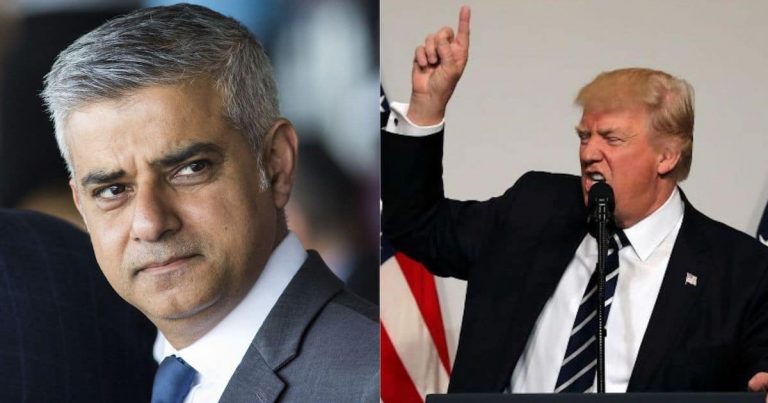 Trump's got the PERFECT nickname for the incompetent London mayor!
When you call the leader of the free world a "fascist," you better expect retaliation.
Especially when the man you're attacking is President Donald Trump.
London Mayor Sadiq Khan incurred Trump's wrath by saying he was one of the "most fascist and authoritarian leaders of the past century."
This lie didn't sit well with our President.
And as he was flying over Britain in Air Force One, Trump decided to fire back BIGLY on Twitter.
The first thing he did was to give Khan a new label: "stone cold loser."
Via Breitbart:
"President Donald Trump fired back at London Mayor Sadiq Khan's direct attack on him…

…taking to Twitter Monday morning as he landed in the UK to dismiss the outspoken left-wing politician as a 'stone cold loser'."
But Trump didn't stop there.
He went on to cite Khan's extremely poor record as Mayor, as London has seen skyrocketing crime since he took office.
In fact, Trump compared Khan to New York Mayor Bill de Blasio, who he dubbed as "very dumb and incompetent:"
….Kahn reminds me very much of our very dumb and incompetent Mayor of NYC, de Blasio, who has also done a terrible job – only half his height. In any event, I look forward to being a great friend to the United Kingdom, and am looking very much forward to my visit. Landing now!

— Donald J. Trump (@realDonaldTrump) June 3, 2019
"…Kahn reminds me very much of our dumb and incompetent Mayor of NYC, de Blasio, who has also done a terrible job…"
Boom!
And it's not like Trump is exaggerating; since Khan took office, knife crimes have risen by 52 percent, robbery is up 59 percent, and gun crimes are up 30 percent.
And above all, homicides in London are now at their highest point in over a decade.
In other words, Khan is NOT doing his job as Mayor.
And yet, he has time to go to the papers and smear President Trump? Doesn't this guy have bigger problems to deal with in his OWN city?
Don't forget, Khan is the same guy who basically dismissed a London terror attack in 2016 by saying:
"Part and parcel of living in a great global city is you've got to be prepared for these things, you've got to be vigilant."
Globalist idiocy at its finest, right there.
Of course, like most liberals, Khan accepts zero responsibility for the horrific crime problems in London.
No, he blames it on "cuts," which is a common Democrat dodge. "You didn't give the government enough money so we can't protect you," basically.
While Khan Blames Crime Wave on Cuts, Fall in Police Numbers Could Be Plugged by Redeploying 'Hate Crime' Officers https://t.co/MVJ0faBhsT

— Breitbart London (@BreitbartLondon) January 26, 2018
On the flip side, Donald Trump is doing everything in his power to keep America safe and stable.
And instead of fixing the mess HE helped create in London, Khan calls Trump a "fascist."
Another common Democrat ploy: slam Trump without actually doing your job as an elected official.
But Trump caught him right where it hurts– Khan IS a "stone cold loser!"
SHARE if you just LOVE Trump's awesome response to Khan's attack!
Source: Breitbart