Manchin Shakes Up 2024 Battleground – Surprise New "Party" Just Changed the Game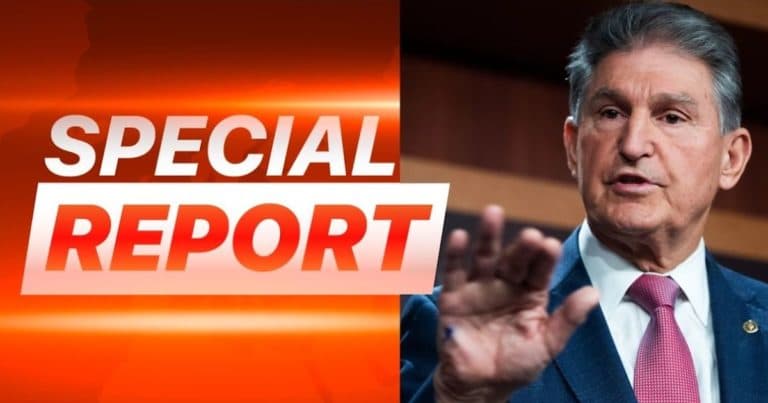 Sen. Joe Manchin is one of the most controversial politicians in the country, primarily because he's a moderate Democrat. This means he's got enemies and allies on both sides of the aisle.
Some believe a moderate is exactly what America needs for 2024, which is why they've pushed for Manchin to take a stab at the White House. To date, though, the West Virginia Senator, has not made any move.
However, that could all change very soon.
Manchin has been recently quoted as saying that radical extremism is growing among both Democrats and Republicans, and the country is desperately seeking a moderate voice of reason.
Now, a new third-party group called "No Labels" has seized upon this message, and has put Manchin atop their list of potential 2024 candidates.
Via The Daily Wire:
Sen. Joe Manchin (D-WV) refused to rule out launching a third-party presidential run in 2024, saying that extremism is becoming a serious issue on both political sides.

Manchin made the remarks during a Sunday morning news show when asked about a recent report from The New York Times about a self-described bipartisan group, 'No Labels,' that wants a third-party presidential candidate in 2024. Manchin sits at the top of the group's list.
Sen. Manchin is well aware of the group – which is essentially trying to embody a third political party, in some respects – and he supports them.
He told Fox News host Shannon Bream that "No Labels" is trying to make "common sense decisions" and that it's run by "people that basically expect us to do our job," and "not put the political party ahead of the country."
Manchin added:
It's always what I've believed. I believe that basically that's where you make the decisions. You listen to the Left and the Right. You make sure that you leave nobody behind.

And you listen to the different persuasions that they might have, concerns. But when it comes you've got to make common sense.
Bream tried to get Manchin to make a confirmation one way or another, but the Senator refused. At the same time, he left the door wide open: "Not ruling anything in, not ruling anything out," he said.
"Everything is open. Everything is on the table and nothing off the table," says @Sen_JoeManchin when asked if he is considering a presidential bid or running for re-election in the Senate. pic.twitter.com/rObgwJ3E8W

— Face The Nation (@FaceTheNation) June 4, 2023
Manchin pointed out that the far-left and far-right politicos in D.C. voted to default, while the moderate Democrats and Republicans – the centrists – made the deal fly.
"We're going to run this country," Manchin concluded. "We can't continue to let the extremes try to be the majority voice when it's going to be the majority voting in the middle and the moderate centrists that will make things happen."
Currently, the frontrunners are clear; current President Joe Biden for the Democratic nomination and either former President Donald Trump or current Florida Governor Ron DeSantis for the GOP nomination.
Few experts believe anyone else has a legitimate chance.
But Sen. Manchin has a point: it's likely the majority of Americans do want a more moderate leader, and it's possible that leader could be Manchin.
Though he is a Democrat, he's talked about possibly running as an Independent, which could really spice things up for 2024.
Key Takeaways:
A group called "No Labels" wants Sen. Joe Manchin to run for President in 2024.
Manchin applauded the group of centrists, which makes "common sense decisions" and is run by people who just "expect politicians to do their jobs."
The W.V. Senator wouldn't confirm a 2024 run, but also wouldn't rule it out.
Source: The Daily Wire