Manchin Just Betrayed President Biden – Pulls Sudden Move to Block Joe's Top Priority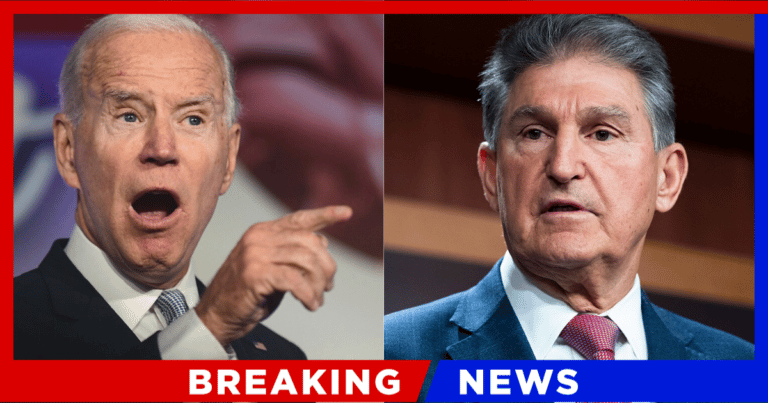 Joe Biden must be feeling extremely frustrated lately because of one man in particular—Senator Joe Manchin.
The Democratic senator from West Virginia has been a thorn in the President's side on a variety of issues, especially on the environment. This time he's going after Joe's 'Energy Efficiency' nominee. 
Manchin has good reason to go against Joe's choice, considering what it would mean for Americans. He looked at the big picture instead of taking it at face value. 
And then, he tanked it. He didn't even let it get out of committee. 
From Fox News: 
"While I supported Mr. Marootian's nomination in December, since then the office he's been nominated to lead has proposed stove efficiency rules that I've raised concerns about," Manchin told Fox News Digital in a statement.

"While I appreciate that these rules would only apply to new stoves, my view is that it's part of a broader, administration-wide effort to eliminate fossil fuels," the West Virginia lawmaker continued. "For that reason, I'm not comfortable moving forward with Mr. Marootian at this time."
It's a big deal because the Senate is on a razor's edge. Democrats need full support in and out of committees to be able to pass anything, and what Manchin did was walk effectively blockade the President. 
He knows that many Americans love gas stoves. Using natural gas to power such an essential home appliance means not having to rely on electricity. Plus, it's cheaper than electric.
Marootian's proposal really made it sound as if stove efficiency rules would only apply to new stoves. Even so, why should homeowners have to go through phasing out their gas stoves? Taking 50% of all current models off the market is a drastic measure. 
Because that's likely what would have happened were the Democrats able to get their way with the DOE. It's not just about requiring more ventilation for gas stoves to counter respiratory health risks. Democrats are deliberately pushing to switch the 35% of Americans who use gas stoves to electric ones. 
This is part of the their effort to "decarbonize" American homes. That effort involves banning the use of fossil fuels – and that seems a lot like control of consumer choices. Manchin was just aware enough to see Biden's decision for what it really was and was bold enough to kill it. 
Key Takeaways:
Biden nominated Jeff Marootian to oversee energy efficiency regulations for gas stoves.

Joe Manchin opposed his choice, mentioning concerns about an agenda to eliminate fossil fuels.

About one-third of Americans use gas stoves, which are thought to be a health hazard without proper ventilation.
Source: Fox News