Joe Manchin Sends President Biden Spinning – He Just Threw A Major Wrench Into Joe's Congress Plans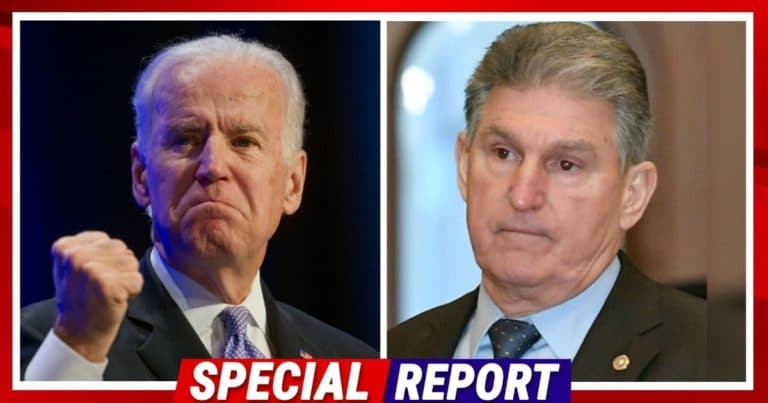 What's Happening:
Joe Manchin seems to be one of the last moderate Democrats in Washington. Joe Biden was supposed to be a moderate.
But all of his plans as President are as radical as if they came out of Bernie Sanders' mouth.
Maybe Sen. Manchin hoped he would have a seat at the table, considering his moderate stance. Maybe he thought he would be pals with Biden.
But the administration is clearly rejecting his views. Biden is now pushing endless spending, higher taxes, and policies that kill jobs.
Not to mention the hostile environment both Congress and Biden have shown moderates like Manchin.
So, Manchin is firing back and ruining Biden's legacy if he just holds firm to this.
From IJR:
Sen. Joe Manchin (D-W. Va.) is signaling that he has some concerns about the proposed spending. CNN's Manu Raju asked him on Thursday, "Are you concerned about this push for a more expansive government?"

"Oh, most certainly. Yea, I am. But I want to see the details," Manchin said, adding, "The bottom line is, [there's] a lot of need in our country. There's a lot of opportunities in our country that are coming."
When asked about Biden's radical spending plan, Joe Manchin admitted he was pretty concerned.
Manchin, a moderate, comes from a red state. West Virginia went for Trump in both elections, so Manchin can't just jump on the socialist bandwagon.
If he were to just blindly support Biden's radical agenda, he'd have to answer to people back home.
Some senators are just fine ignoring their state's concerns, but apparently not Manchin.
He appeared bothered by Biden's attempts to radically expand the federal government.
It seems Manchin is very concerned about growing the economy after the events of 2020. But with higher taxes and more government, can our communities and businesses succeed?
When Trump cut taxes in 2017, many believed it put us on a path for massive economic success. But Joe wants to do the opposite, which would probably have a very negative effect on our economy.
If Manchin really wants to stand up for the people of West Virginia, many believe he can't embrace Biden's agenda.
And being a key vote in the split Senate, he can have a lot of say in what happens.
Do you think Joe Manchin will stand firm against Joe Biden's far-left agenda?
Key Takeaways:
Joe Manchin commented on Biden's massive spending bill.
The moderate Democrat said he was concerned over Biden's plans.
He, instead, wanted policies that will help the economy recover.