Joe Manchin Sinks Another Democrat Battleship – He Just Tossed Their Holy Grail Overboard, Slipping Immigration Into Spending BIll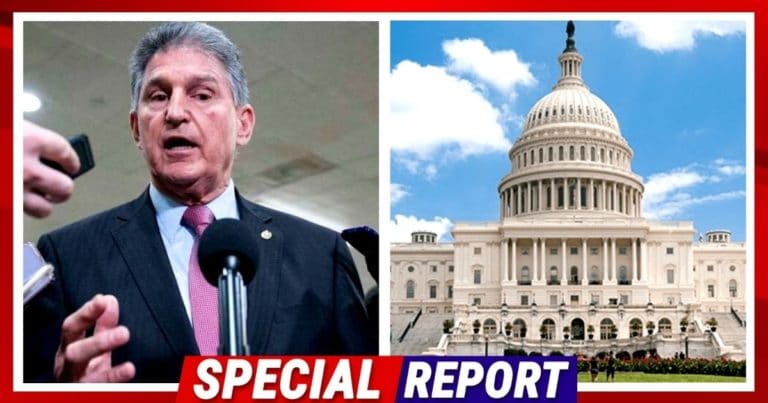 What's Happening:
Democrats were struck a major blow when the Senate parliamentarian denied them a chance at changing major laws. They wanted to sneak in one of their "holy grails" into their massive spending bill. But the Senate rule-maker said, "No way."
That hasn't stopped activists from shutting down bridges and harassing senators to make it a reality.
It was possible that Democrats would ignore the parliamentarian and shove this agenda in their bill, anyway. That would have been bad for the country and our Constitution. But Joe Manchin just burst their balloon.
From MSN:
Sen. Joe Manchin said he does not believe immigration reform will make it into the budget reconciliation bill, delivering a blow to immigration activists who had hoped Democrats would pass a pathway to citizenship without the help of Republicans…

Manchin said he is 'totally committed to the need for immigration reform but he is unwilling to 'bust the Byrd Rule.'
Sen. Joe Manchin revealed he would not support immigration changes in the Democrats' massive spending bill. The moderate explained it would be "too big" for something like Biden's $3.5 trillion socialist scheme.
Manchin has been a thorn in the radical left's side for months. He has opposed every extreme measure they have tried to shove down the country's throat. He refused to let them kill the filibuster. He is slowing down the passage of this spending bill (maybe even killing it). And now, he won't let them rewrite our immigration laws.
Immigration activists want to so radically change our laws, in order to reward border jumpers. They want amnesty and an easy "path to citizenship" that doesn't focus on merit and our laws. It's obvious why the left wants this so that non-Americans can easily vote in our elections.
It's pretty disturbing that twice the Senate parliamentarian rejected the Democrats' scheme—yet still, they tried to get it into the bill. Apparently, Democrats no longer respect the rule of law or even the rules of their own Senate.
They want to push their agenda, come hell or high water.
Key Takeaways:
Joe Manchin refuses to support immigration reform in the spending bill.
He called immigration reform "too big" to be snuck into Biden's bill.
Democrats have tried to push radical changes to our immigration laws.
Source: MSN