Joe Manchin Swings Wrecking Ball Through His Own Party – The Senator Accuses Biden's Plan Of Being "Fiscal Insanity"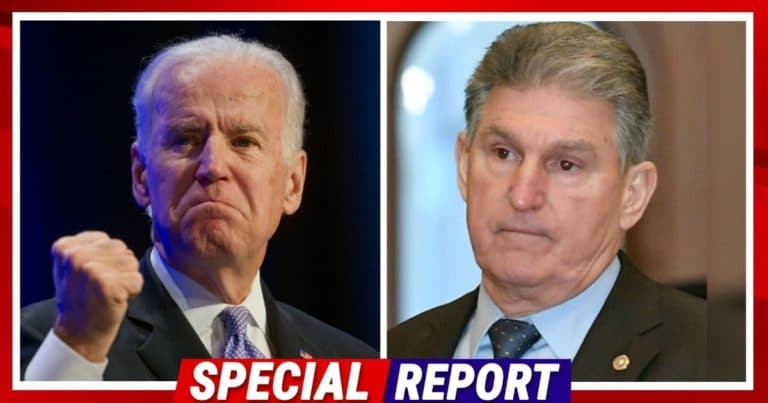 What's Happening:
Joe Biden recently canceled his plans to urge moderate Democrats to support his toxic spending bill. Biden doesn't seem to care about the many crises facing our country, just that his socialist takeover can happen. But it doesn't seem he's very good at making deals (unlike one president I know).
Joe Biden needs the support of one senator in particular, Joe Manchin from West Virginia. Manchin has been very vocal about his rejection of Biden's $3.5 trillion spending package (which some say could cost up to $5 trillion or more).
But now he's making his stance crystal clear. From Daily Wire:
Sen. Joe Manchin (D-WV) delivered a fatal blow to Democrat President Joe Biden's massive $3.5 trillion agenda in a statement on Wednesday afternoon, saying that the bill was the "definition of fiscal insanity."

"What I have made clear to the President and Democratic leaders is that spending trillions more on new and expanded government programs, when we can't even pay for the essential social programs, like Social Security and Medicare, is the definition of fiscal insanity."
Sen. Joe Manchin released a statement this week blasting Joe Biden's massive spending plan. Although he appears to come short of calling it a "socialist takeover," Manchin made it very clear he was against this sweeping "reengineering" of our country.
Manchin rebuked Democrats for trying to push more spending on the country when we can't even afford "essential" social programs like Social Security and Medicare. We have frequently documented reports that SS and Medicare will be out of money soon. Manchin's concerns are very valid.
The senator went on to criticize Biden's spending when the country is "not in a recession." He questioned the wisdom of shelling out more welfare when "millions of jobs remain open." He even said Biden's plan would "feed a dysfunction" that would cripple our economic recovery.
Manchin was simply brutal in his attack on Biden's radical, bloated spending plan. It appears he is making it very clear that he is not on board with Sleepy Joe's agenda. This comes after numerous meetings with Biden. Apparently, Biden was unable to win over Manchin.
It looks like he turned him off for good.
Without Manchin's support of this bill, Democrats lose enough votes to make it a reality.
Key Takeaways:
Joe Manchin blasted Joe Biden's $3.5 trillion plan, calling it "insanity."
He rebuked Democrats for trying to create new social programs while neglecting SS.
Manchin's vote is needed for the bill to pass in the Senate without Republican support.
Source: Daily Wire