Manchin Loses It Right Behind Schumer Speech – Video Catches Joe Burying His Face, Then Storming Out In Response To Chuck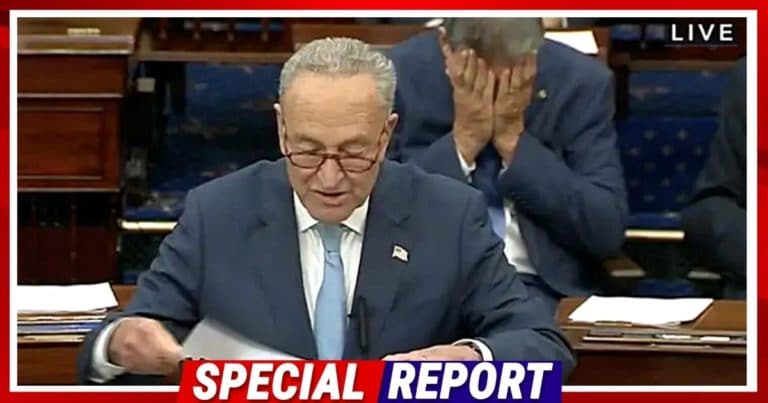 What's Happening:
Despite warnings from former President Donald Trump, Republicans paved the way for Democrats to raise the debt ceiling. Mitch McConnell offered a temporary solution, extending the debt limit until December. He made this concession because Democrats refused to do the dirty work themselves.
Although Democrats had the votes to raise the ceiling themselves, they stalled and delayed. This week, Chuck Schumer took to the Senate floor to bash Republicans, putting all the blame on them.
Well, moderate Democrat Joe Manchin was not at all pleased with his party leader. And he called out Schumer over his bogus speech.
From Business Insider:
Democratic Sen. Joe Manchin has sided with Senate Republicans in strongly disapproving of a fiery, partisan speech by Senate Majority Leader Chuck Schumer Thursday night before a vote to raise the debt ceiling by $480 billion…

As Schumer continued his speech, Manchin could be seen behind him, placing his face in his hands and shaking his head in disapproval…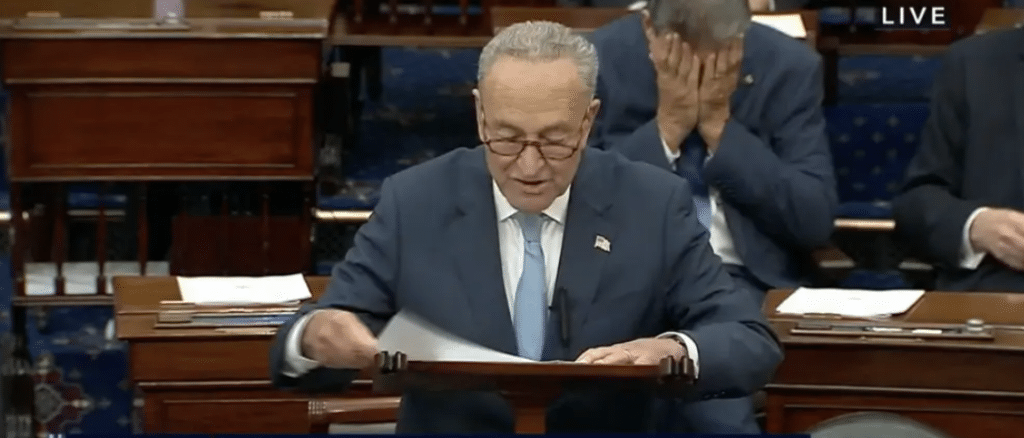 Manchin, continuing to shake his head eventually got up from his seat and walked away.
Manchin tells us he didn't like Schumer's speech after the vote to break a filibuster on the debt ceiling. "I didn't think it was appropriate at this time," he said, arguing that "we need to de-weaponize" and stop "playing politics … That was not a way to take (frustration) out" pic.twitter.com/TsGDsMNAqK

— Manu Raju (@mkraju) October 8, 2021
Senate Majority Leader Chuck Schumer had refused to use reconciliation to raise the debt ceiling. Even though the country was about to default, he demanded Republicans vote with them. When Republicans did offer Schumer a compromise, he bashed them in a partisan speech.
Schumer blamed the crisis on Republicans saying they "manufactured" it. He accused them of playing a "dangerous and risky partisan game," while ignoring his own (must larger) role in this ongoing drama.
You would have expected Republicans to be the only ones outraged by Schumer's dishonest speech. But Democrat Joe Manchin was seen visibly upset by Schumer's remarks. He even stormed out of the chambers before he ended. Reports claim he cursed out Schumer, calling the speech "f***ing stupid."
Manchin later blasted Schumer's comments before reporters. He called them inappropriate. He also accused Schumer of weaponizing the debt crisis and called on him to stop "playing politics." Manchin claimed Schumer was taking out his "frustration" against Republicans in his speech.
It seems like Schumer is trying to rewrite history with his speech. We know that Democrats have enough votes to raise the debt ceiling without Republican help. Heck, they are trying to do everything else without Republican help. Yet for this one issue, they were demanding Republican support.
For Schumer to blame Republicans, when he was the one dragging out this issue, is shockingly dishonest. And even one of his own party members was sickened by his speech. This move only further widens the divide between the moderate Manchin and the rest of his party.
Key Takeaways:
Joe Manchin stormed out of the Senate chambers during Schumer's speech.
Schumer blamed Republicans for the debt ceiling crisis.
Manchin reportedly cursed out Schumer and blasted his remarks.
Source: Business Insider, Twitter