Manchin Quietly Makes a Big Move – And Democrats Are Panicking Over It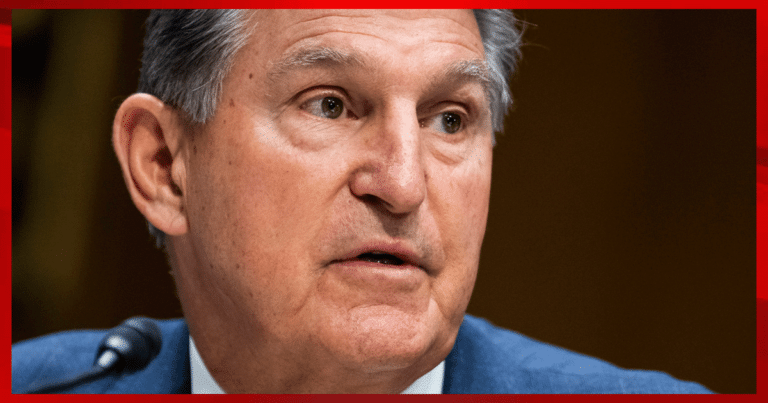 What's Happening:
Democrats' plans to keep a senile puppet in the White House have been up-ended by an unexpected challenger. Joe Biden's re-election bid has already been rattled by Robert F. Kennedy Jr., who is running for the Democratic nomination. But he might not be the last candidate to undermine the liberal establishment's scheme to monopolize the presidency.
For a long time, people have wondered about Sen. Joe Manchin's plans for 2024. Many don't think he'll win re-election as a senator from conservative West Virginia, since he's moved increasingly to the left. Some have suggested he'd have a better chance at running for president as a third-party candidate. The man hasn't ruled out the option. And now, he's making his biggest move yet.
From Daily Wire:
Sen. Joe Manchin (D-WV) said he's "never ruled out anything" regarding a 2024 presidential bid as he prepares to give a keynote address at a New Hampshire town hall event sponsored by a political group pushing for a third-party ticket.

Manchin will speak at Saint Anselm College in Manchester on Monday in an event by No Labels, where the political group will release its "Common Sense" policy booklet.
Isn't this interesting? Sen. Manchin will speak at an event hosted by No Labels a group that is pushing for a third-party candidate in the upcoming election. He will be joined by former Republican Governor John Huntsman. No Label's believes a moderate third-party candidate has a shot at the presidency, as both parties become more extreme.
No, why would Manchin bother to speak at this group's event? If he has ruled out running, he wouldn't be showing up. But not only will he attend this town hall, but he will be giving the keynote address.
We don't know what Manchin might say. He could announce a campaign. Or not. But we think this could be a move toward a third-party candidacy, with John Huntsman as a running mate.
Should Manchin run for president as a third-party candidate, Biden's toast. Most Republicans will flock to their nominee, along with most conservative independent voters. But liberals will be divided between failed President Joe Biden and a man who actually has a brain.
Manchin may not win but take enough votes away from Joe that his campaign is doomed. What Manchin does at this town hall will be very important.
Key Takeaways:
Joe Manchin will speak at a town hall hosted by a third-party group.
The senator has been mulling a possible third-party run for president in 2024.
Should Manchin run as a third-party candidate, he might steal votes from Biden.
Source: Daily Wire