After Marine Saves Baby, Appears At Trump Rally – The Military Launches Concerning Investigation Into Him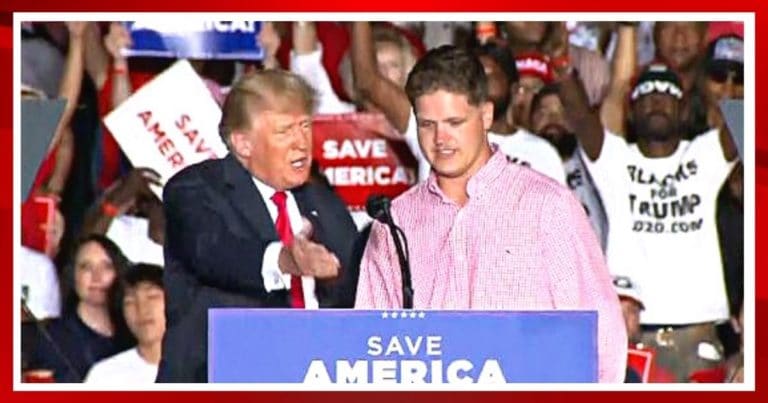 What's Happening:
We know that in Biden's military, wokeness and political correctness seem to matter more than freedom. Instead of defeating our enemies, his Pentagon has been prioritizing rooting out forms of "domestic extremism."
Of course, in their warped minds, that apparently means anyone who is right of center.
A Marine gained national acclaim after he rescued a baby during Biden's failed Afghanistan evacuation. To show him respect, Trump invited him to attend his rally. That apparently triggered Biden's woke military. Because that Marine is now being investigated.
From Daily Wire:
A U.S. Marine who was tasked with protecting the Hamid Karzai International Airport amid President Joe Biden's botched withdrawal from Afghanistan is reportedly under investigation for appearing at a rally earlier this month with former President Donald Trump…

"The 24th Marine Expeditionary Unit (MEU) has initiated a command investigation regarding LCpl Hunter Clark's attendance at the event last weekend to determine if any DoD policies were violated," Cochran said.
The Marine's spokesman claims that hero Lance Cpl. Hunter Clark, who rescued a baby in Afghanistan, is being investigated for "violating" DoD policies. Really, they are investigating him for attending a Trump rally and claiming he saved a baby. The spokesman claimed active-duty troops needed DoD permission to speak at a partisan event.
Really?
How many times have we seen generals, officers, and other military figures appear at speeches and political events? Democrats have no problem seeking the support and endorsement of the military, during election time. And let's not forget that Clark was not in uniform, nor did he speak or endorse Trump or anyone else.
Does this really have anything to do with "DoD policy?" Or maybe it has to do with Biden's "woke" generals trying to purge the military of conservatives. They have been trying to force leftist ideology onto our military for years. The only people stopping them from making the greatest military in the world into a laughingstock are strong, patriotic service members.
So, of course, they have to go. Biden's military leaders are spending so much time persecuting and oppressing their own members. Yet they barely did anything when the Taliban stole our weapons and gear and took over Afghanistan. They literally rolled over for our enemies.
But a man who attended a Trump rally is the bad guy?
Now they are claiming that he may not be telling the truth about saving a baby. If he was being an impostor to gain fame, maybe that does need to be looked into. But we can be pretty sure they wouldn't treat a liberal this way.
Biden seems to have toxically politicized our military. And it must stop.
Key Takeaways:
The DoD is "investigating" a hero Marine who attended a Trump rally.
The Marine rescued a baby in Afghanistan during Biden's failed evacuation.
Biden's Pentagon is actively persecuting conservative service members.
Source: Daily Wire