'Mad Dog' Mattis Turns Biden's Strength Into Major Weakness – Sends Poor Joe Spinning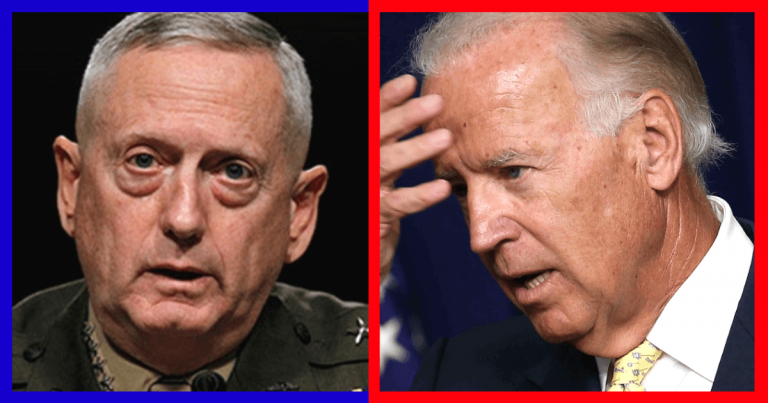 Ol' Joe thought Mad Dog was gone – here he comes to crush Biden's campaign!
Biden was once the frontrunner among the 2020 Democratic candidates. But recent polls show he's slipping.
It's pretty sad when Elizabeth Warren is eating your lunch. But that's what the former VP is dealing with these days.
I guess you can say, he didn't need this latest hit to his campaign. Former Secretary of Defense, Mad Dog Mattis just released a book about his time during the Obama administration.
He revealed that, while Biden brags about his "wonderful" foreign policy, it was that very policy that plunged us into ongoing troubles.
Mattis is brutal and holds back no punches. Biden should be pretty worried.
From Fox News:
Former Defense Secretary James Mattis, in stark terms, lambasts Barack Obama and Joe Biden for faulty leadership in his new book, and suggests their naivete and ignorance of reality contributed to the rise of ISIS in Iraq…

Mattis wrote that Obama's tenure "was to be a time when I would witness duty and deceit, courage and cowardice, and, ultimately, strategic frustration."
Ouch. Joe Biden was picked by Obama because of his foreign policy experience.
But the Obama administration was rocked with terrible foreign policy decisions. It's no secret we were the laughing stock of the world.
Our allies lost faith in us. It didn't seem like we knew what we were doing overseas.
Mattis exposes the terrible leadership during those years, all thanks to Biden's "naivete and ignorance of reality."
Wow. Those are some strong words. Biden pretends like he's a foreign policy expert. Can an expert be described as naive and ignorant?
Keep in mind, these are the words of James Mattis, a former Marine and Secretary of Defense. This is a man who knows foreign policy like the back of his hand.
He saw up close how Biden's lack of know-how made things much worse for us and nations overseas. Real problems arose, thanks to Biden's input.
That doesn't put much confidence in what Biden might do, as president, does it?
People might not buy what I saw about Joe. But I'm guessing more than a few voters will listen to a decorated hero like Mattis.
SHARE if you agree with Mattis: Biden did a terrible job!
Source: Fox News