After Mad Dog Mattis Tries To Blast Trump – Lindsey Graham Sets The Record Straight: "You're Missing Something Here, My Friend"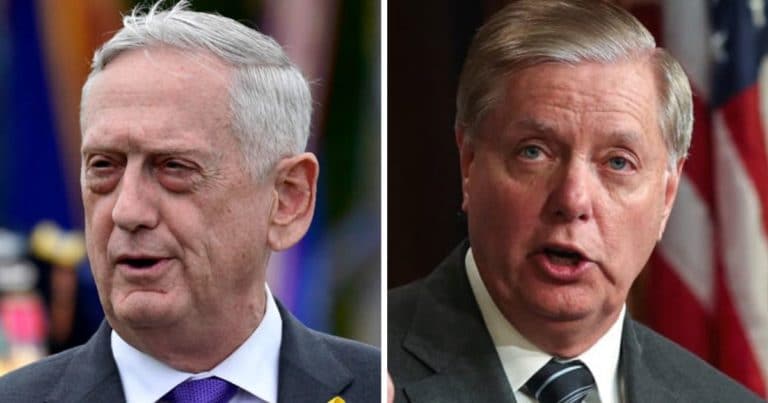 Remember "Mad Dog" Mattis? Trump's former defense secretary was fired by the president.
Now, he's back… slandering the Commander in Chief. He blamed Trump for the violent riots and said some truly shocking things about his former boss.
But one man, who is not always on the president's side, fired back at the mad dog.
From Axios (video from Fox News/YouTube):
To General Mattis, I think you're missing something here, my friend. You're missing the fact that the liberal media has taken every event in the last three-and-a-half years and laid it at the president's feet."

"You don't quite understand that from the time President Trump wakes up until he goes to bed, there's an effort to destroy his presidency. … It is so fashionable to blame President Trump for every wrong in America," Graham said earlier in the interview.
After Mattis slandered Trump in a recent statement, Sen. Graham fired back.
He told the former defense secretary that he was "buying into" the liberal media's deliberate attacks against the president.
Graham defended Trump saying from the time he "wakes up until he goes to bed, there's an effort to destroy his presidency."
The senator is calling out Mattis' statements as being deeply colored by the left's narrative.
Our Take:
It's pretty shocking that man once praised by the military (and many conservatives) is now stabbing the president in the back.
Stories suggest Trump fired Mattis because he was hellbent on starting a war in Iran. Was Mattis just another servant of the military-industrial complex?
We can't say for sure. But his latest, indefensible attacks on the president makes him sound like just another D.C. swamp dweller.
Keep in mind, Mattis served under Obama. Yet he never called out the former president for anything he did.
(This is the same president who gave over $2 billion in cash to Iran, by the way.)
Graham is bringing up an excellent point. It seems Mattis is feeding into the largely distorted narrative spread by the mainstream media.
From the very start of the George Floyd tragedy, Trump was seeking justice. He directed the FBI and DOJ to investigate. And he's been battling to end the unjustifiable violence in major cities.
So, why is Mattis criticizing him?
Does he really believe Trump is doing a bad job or is he just bitter he lost his job?
SHARE if you stand with Trump and Graham, not Mattis.
Source: Axios