House Leader McCarthy Defies Pelosi – Demands Nancy's 'Reckless' Impeachment Hunt Suspended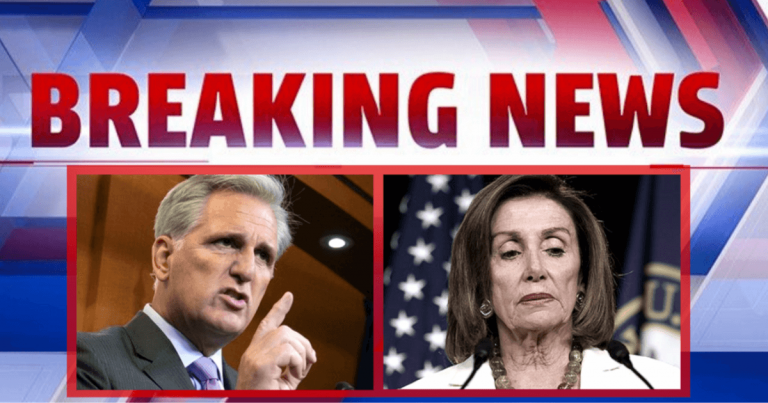 The House's top Republican just gave Nancy a major wake-up call… ouch!
It seems like Democrats will stop at nothing to get what they want. They are determined to push impeachment, no matter the cost.
They are acting like bullies to get their way. They demand witnesses show up and give them dirt on Trump, or they'll go after them for obstruction.
They've even admitted they are rushing this process through (it seems before Americans can figure out what's really going on).
Now, the Republican House Minority Leader is trying to shut down Pelosi's little charade.
From Fox News:
House Minority Leader Kevin McCarthy, R-Calif., sent a letter on Thursday to House Speaker Nancy Pelosi, D-Calif., calling on her to suspend the impeachment inquiry into President Trump until "equitable rules and procedures" are set up…

"Unfortunately, you have given no clear indication as to how your impeachment inquiry will proceed – including whether key historical precedents or basic standards of due process will be observed," McCarthy said in his letter.
McCarthy calls out House Democrats for forcing this process through and neglecting long-standing procedures.
They are ignoring historical precedent and basic standards of how our government operates.
There's good reason for that. It looks like Democrats got nothing on Trump! They are trying to ram this through Congress before they lose momentum.
McCarthy is demanding Pelosi to suspend this inquiry until they actually agree on how all this is supposed to happen.
Keep in mind, the House has NOT voted for an impeachment inquiry on Trump yet. Pelosi did not let the entire body weigh in on this crucial matter.
She just pushed ahead, giving the job to one of her own party members. Clearly, she doesn't want the entire House to be involved.
So much for democracy.
McCarthy has had enough of this nonsense and is bring the case to Pelosi.
She has to respond to this, or else be seen as a reckless leader, with no concern for our government.
SHARE if you want Pelosi to shut down her impeachment inquiry!
Source: Fox News