McCarthy Unloads New Bill On Protesters – He Wants To Defund States That Fail To Defend Monuments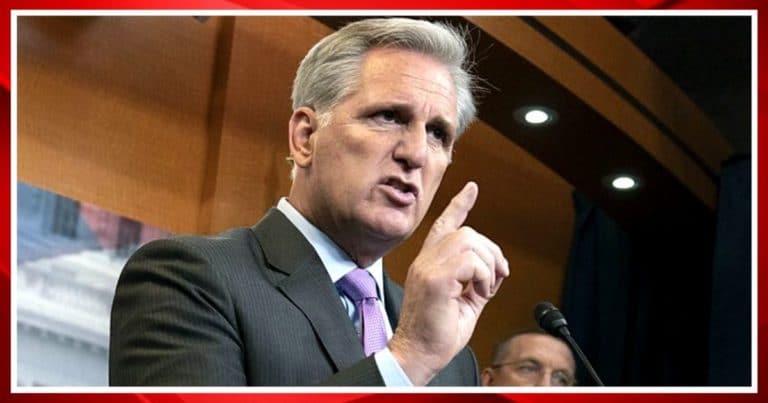 What's Happening:
President Trump has taken a strong stance against protesters who vandalize historical monuments. He has promised prosecution, up to ten years, for those who attack federal property. He has also highlighted a $10,000 as another penalty for rioters who attack statues.
But it appears Republicans have another idea for protecting our history. House Republican Leader McCarthy is introducing legislation that is sure to stop protesters in their tracks. It will compel states to actually guard their monuments. If not, he wants to defund them:
House Republican Leader Kevin McCarthy introduced legislation on Thursday meant to shield statues targeted by protesters, by preventing state and local governments that do not protect monuments from receiving federal grants…

"Public monuments are indispensable because they tell the American story. It is wrong to erase our history," McCarthy said in a statement, saying: "We should be learning from it."
In the aftermath of widespread riots from early Summer, states are begging for federal aid. States often rely on funds from D.C. to address ongoing issues. This is especially true after months of COVID panic-lockdowns and riot-destroyed property.
McCarthy's bill will "cut the purse strings" from states that refuse to defend their monuments. Democrats appeared to sit by as rioters tore down statues, graffitied monuments, and torched historical landmarks. They claimed they were supporting "peaceful" protests, but refused to let their police intervene against violence.
This bill will urge states to do their job at stopping violence and restoring order to the streets. States that wish to receive funding from the federal government will have to make an effort to stop vandalism. If not, they are on their own.
Money is a powerful motivator, after all. And if Democrat state leaders can't stop vandalism for its own sake, then the thought of losing money will get them moving.
But in order for this bill to become a reality, Republicans must gain control of both houses of Congress and retain the White House.
Key Takeaways:
McCarthy is introducing a bill to cut federal funding to states who do not protect monuments.
This comes after numerous Democrat state leaders refused to stop riots and protests.
President Trump has previously threatened strict punishment for those who vandalism statues.
Source: Fox News