Report: McCarthy Made Trump 1 Promise – And Donald's Fans Wonder Why It Hasn't Happened Yet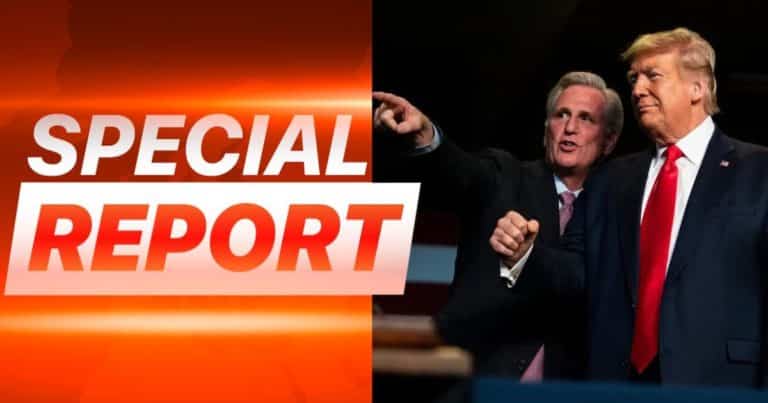 What's Happening:
How trustworthy is the highest-ranking Republican in Congress? Former President Donald Trump fans are questioning how truthful and loyal this leader is when it comes to delivering on his promises.
House Speaker Kevin McCarthy (R-CA) reportedly promised Trump that the House would wipe away his two impeachments, but nothing has happened.
This is coming to light after McCarthy said a few weeks ago that he isn't sure Trump is the "strongest" candidate to beat President Joe Biden in the 2024 presidential election.
McCarthy sounds like a wishy-washy Republican who is trying to hedge both sides of the aisle as campaign season heats up; he's had several years to nullify the impeachments and still hasn't endorsed Trump for 2024.
The Speaker has sort of waffled on why he hasn't lived up to his commitments, even denying to the media that he promised to get rid of the impeachments.
From the Daily Caller:
'I've been very clear, from long before when I voted against the impeachments, that they did it for purely political purposes,' McCarthy told NBC News in response to Politico's reporting.

'I support expungement, but there's no deal out there.'
Why can't this waffler commit to doing whatever he can to help Republicans regain the White House?
Trump is leading all candidates by leaps and bounds heading into the primary, and a unified GOP is stronger at the polls than a party not committed to a new direction in the White House.
Now, Trump is calling out McCarthy to deliver for Republicans.
From the Daily Caller:
'He needs to endorse me — today!' Trump said after McCarthy's late June remarks, sources familiar with the situation told Politico.
McCarthy, in his typical style senior politician style, took to Twitter to work damage control after news outlets questioned his intentions. "Trump is the STRONGEST opponent to Biden! Stand with Trump now…" McCarthy tweeted.
McCarthy, and unfortunately many other House Republicans, don't have the stomach for a tough political fight. They're too worried about their own backsides to put the full weight of the House behind Trump.
From the Daily Caller:
'I'm for Trump,' a senior congress member told Politico.

'The problem is: If you have an expungement, and it goes to the floor and fails — which it probably will — then the media will treat it like it's a third impeachment, and it will show disunity among Republican ranks. It's a huge strategic risk.'
That statement that a vote would likely fail is proof that there are too many Republicans playing politics and not working hard toward truth and justice for voters.
Key Takeaways:
McCarthy denies promising to wipe away Trump impeachments.
Trump calls out McCarthy for not yet endorsing him for president.
Republicans in Congress believe helping Trump is a "strategic risk."
Source: Daily Caller