McCarthy's Career Suddenly in Jeopardy – GOP Could Make Shock Power Move in Just Days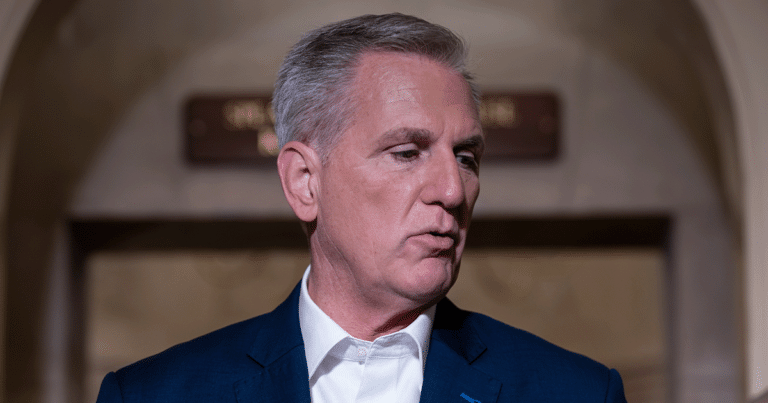 What's Happening:
It took years for Republican Rep. Kevin McCarthy to become Speaker of the House. He battled Democrats, Nancy Pelosi, and even members of his own party to make it to the highest post in the House. Even then, he needed to fight and negotiate after the 2022 midterms to secure the gavel.
But all of that could have been for nothing.
McCarthy and House Republicans fought Joe Biden over the debt ceiling bill. Republicans wanted major spending cuts before they agreed to a deal. Biden, despite all his claims, agreed to compromises, so something could be passed before the deadline. Now, a few far-right Republicans are not satisfied with McCarthy's work. And they want him gone.
From The Western Journal:
According to NBC News, House conservatives are considering using a parliamentary tactic to attempt to remove McCarthy over their unhappiness with the deal he has worked out with President Joe Biden.

On a conference call Monday night with fellow members of the conservative House Freedom Caucus, Republican Rep. Ken Buck of Colorado suggested using a rule that would force a new vote for House speaker, the report said.
A few members of the Republican Freedom Caucus are, predictably, upset over the deal McCarthy made with Joe Biden. This handful of Republicans is unlikely to vote on the compromised debt ceiling bill, requiring Democrats to vote for it so it will pass.
This group of hardliners didn't want a single compromise in this bill. They claim the deal is a loss for the country, despite the fact that the nation was nearing a devastating default.
And, according to NBC, this group is mulling over a move to remove McCarthy from the speakership. A parliamentary move can trigger a vote on McCarthy's role as Speaker of the House. It would only require a few votes from the far-right to sink him.
That would plunge the House into the same kind of dysfunction we saw at the beginning of the year. And it might create a scenario where a Democrat was made Speaker, despite a Republican majority.
How would that look to Americans? It's hard to say. Republicans fought for years to retake the House, only to win it by a few seats. Would voters appreciate that, in the first few months of a Republican-controlled House, they were constantly fighting each other?
That's not for me to say. But if Republicans do remove McCarthy, it will be a very interesting 2024.
Key Takeaways:
Several Freedom Caucus members are considering removing McCarthy from the Speakership.
They are upset about the debt ceiling bill, attacking McCarthy for compromising.
It would only take a few votes for Republicans to remove McCarthy, throwing the House into disorder.
Source: The Western Journal