After McConnell 'Caves' To Biden Pressure – Donald Trump Accuses Mitch Of Having All The Cards And Folding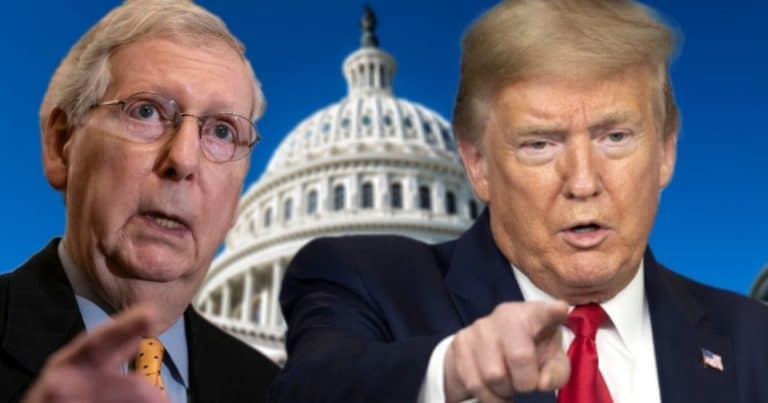 What's Happening:
The U.S. government is getting dangerously close to defaulting on its loans. Such a thing has never happened in our history—and it would result in a major disaster. The Democrats, of course, have a solution.
Pay off our debts? No, silly! They just want to extend our credit limit.
Republicans refused to go along with their plan. Democrats have the votes, after all, let them get their hands dirty. But Schumer and the left sat back as America hurtled toward disaster. So, Mitch McConnell caved once again and came up with a plan to save the left's bacon.
From CNBC:
Senate Minority Leader Mitch McConnell on Wednesday offered a short-term suspension of the U.S. debt ceiling to avert a national default and economic crisis until Democrats are able to pass a more permanent solution before the end of the year.
Even though he didn't have to, McConnell agreed to support a short-term plan to raise the debt ceiling. And now, Donald Trump is blasting him.
From The Hill:
"Looks like Mitch McConnell is folding to the Democrats, again. He's got all of the cards with the debt ceiling, it's time to play the hand. Don't let them destroy our Country!"
Democrats wanted Republicans to vote on a debt limit increase. Republicans refused, not willing to contribute to Biden's radical spending plan. But the country needed to raise the ceiling, or a cascade of disasters would occur.
A shrewd Republican leader could have used this to leverage just about anything he wanted. He could have forced Democrats to pass measures for the border. He could have gotten a commitment to investigate (and prosecute) the Afghanistan fall.
He could have pressured Biden and the left to gut their spending bill. Or perhaps get a measure that addresses any number of issues facing Americans. Instead, Mitch got… nothing, nothing at all. He offered a short-term debt limit increase, getting nothing in return.
Trump blasted the apparently brainless Republican leader. He explained McConnell had "all the cards." He could have convinced Democrats to agree to many things. Instead, he stubbornly refused to work with them for months, only now budging because he has no choice.
Democrats can easily come up with a reconciliation plan in December to raise the debt ceiling, once again bypassing Republicans. They can take all the credit and leave conservatives in the dust. That's why the GOP needs someone like Trump in charge.
A master negotiator would have never wasted this opportunity.
Key Takeaways:
Trump blasted McConnell after he caved on the debt ceiling crisis.
McConnell offered a short-term deal, paving the way for a Democrat win.
Trump explained McConnell should have used the situation to help Americans.