McConnell Gives New "Freeze" Update – Here's His Career Decision After Scary Moment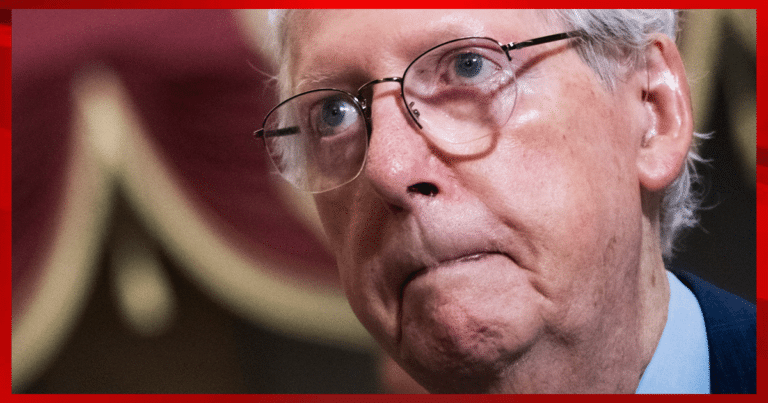 What's Happening:
All Americans were shocked and concerned after Senate Minority Leader Mitch McConnell froze during a press conference. The man suddenly stopped speaking, mid-sentence, and stared blankly at the reporters in front of him. This comes just months after he was rushed to the hospital with a concussion.
Many pointed out that the Republican is 81 years old. He claims he was feeling "light headed." But many think he, like so many others in Washington, is just too old to serve. Speculation abounded over what he might be suffering from. And now, his office is releasing a statement a little more detailed than "I'm fine."
From CNN:
Senate Minority Leader Mitch McConnell plans to serve the rest of the 118th Congress as the GOP leader, the Kentucky Republican's office said in a statement Friday.

Questions about the future of McConnell, 81, were swiftly raised this week after he froze for 30 seconds during a news conference. The statement doesn't address his plans in the next Congress, which begins in 2025.
Interesting. McConnell's office refused to give adequate information about the man's sudden and terrifying freeze before reporters. Instead, they told Americans that McConnell, essentially, will not step down and will finish his role as GOP leader, through 2024.
His future plans, however, were not disclosed.
This is far from a satisfying answer for the public. The man clearly is not well. For all the grief we give Joe Biden for his ailing health, we cannot ignore the same kinds of problems among Republicans. Americans deserve healthy, well-functioning people in Congress. More than that, they deserve to know the truth when a leader is suffering from ill health.
McConnell refuses to say what is wrong with him. And he defiantly refuses to step down as Senate Minority Leader, despite this troubling episode. Will Americans rest easy from this statement? Or do we have to fear more, or worse, episodes like the one we saw this week?
Perhaps age and term limits need to be passed, ASAP.
Key Takeaways:
Mitch McConnell's office announced he will serve as GOP leader through 2024.
His staff did not say if the ailing Republican will retire any time soon.
McConnell's health became a major concern after he froze during a press conference.
Source: CNN