After Media Pushes To Keep America Closed – President Trump Exposes Their Intentions Are Political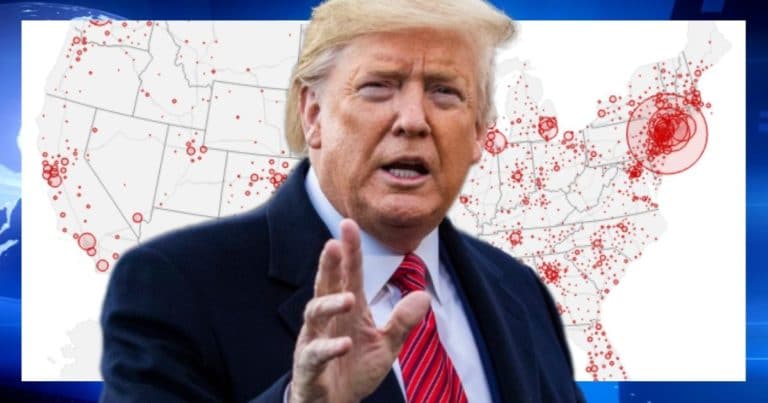 President Trump has been fighting misinformation from the start of this crisis.
He was the one who made the unpopular decision to close our borders to China. You know he got hell from the liberal media, for that one.
After that, he took steps to protect Americans—especially seniors—by encouraging an economic slowdown. But this slowdown can't last forever.
Even with stimulus on its way, we need America to get back to work.
Who is opposing him? The very same people who have slandered him from day one, endorsed his impeach, and criticized his actions from the start.
And now he's exposing why.
From Daily Wire:
President Trump took aim at the left-leaning mainstream media, describing them as "the dominant force" behind keeping America "closed as long as possible." The media's driving motive, Trump suggested, is about politics, not protecting people.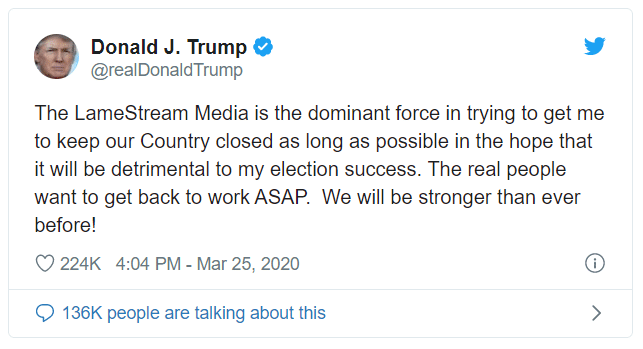 "The LameStream Media is the dominant force in trying to get me to keep our Country closed as long as possible in the hope that it will be detrimental to my election success. The real people want to get back to work ASAP. We will be stronger than ever before!"
President Trump called out the liberal media from wanting the economic pause to drag on forever.
Why? Because he accuses them of pursuing a political angle.
Some might have forgotten, but it's an election year. The Democrats in the media are pulling for Joe Biden to replace Donald Trump in the White House.
So far, Trump's handling of this virus outbreak has only improved his approval ratings. Before it hit, he had historic primary numbers from an incumbent.
There might be even more reason to believe he will win re-election in a landslide.
How is the media responding? By desperately hoping this economic pause will continue for a long time.
The longer companies are closed, the more Americans are hurt. Even after the virus is contained, people will be struggling.
But the media doesn't care. Those rich elitists will go home to their expensive houses, unaffected by this crisis.
To think that some of them want a recession is sickening. But it seems they'll say or do anything… if they think it'll hurt Trump.
The moment he started talking about revving up the economy, they complained. They should have been celebrating.
But regardless of their protests, something tells me Trump will get the economy back on track sooner than we think. And the media will just have to weep, come November.
SHARE if you stand with Trump, not the mainstream media.
Source: Daily Wire