Lefty "Queen" AOC Draws Intense Fire – Puts On Mask For Photo Op And Then Appears To Immediately Remove It After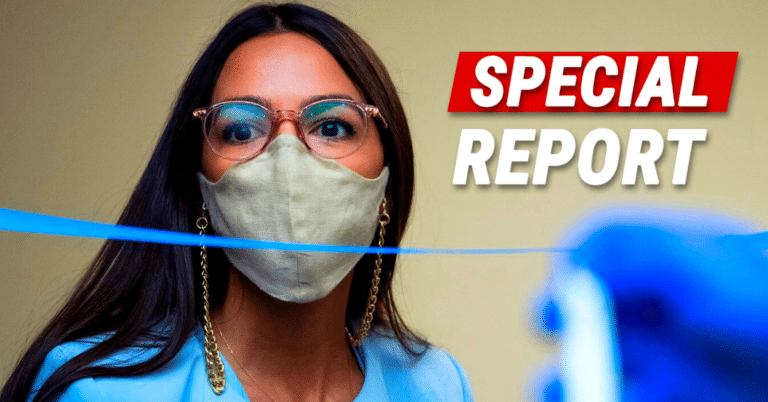 What's Happening:
Why does the media still praise Alexandria Ocasio-Cortez?
After all this time, why haven't they figured out she's all talk and no action?
The woman is good at pretending like she has all the answers. But still around long enough and the mask comes off. Literally.
The "Democratic socialist" is as flimsy as the ideas she peddles.
Now, it seems like she's finally getting from fire over something she's done.
And it has everything to do with her mask.
From Fox News:
Rep. Alexandria Ocasio-Cortez, D-N.Y., masked up for a photo op with activists on the steps of the U.S. Capitol — but only for the picture, a viral video shows.

Ocasio-Cortez dropped her coronavirus mask after the snap Monday, when she posed with protesters in support of a new eviction moratorium. She was joined by fellow progressive Sen. Ed Markey, D-Mass.
Of course! pic.twitter.com/m8kAGTHGYJ

— Breitbart News (@BreitbartNews) August 4, 2021
Wow. AOC is so worried about the virus that it seems she'll wear a mask only for a photo.
Does that make sense? Why wear one when the cameras are flashing, but take it off before or just seconds later?
Not sending the right message, Alex!
This is pretty typical of AOC—but not just her. Democrats love living by the old anthem, "Do as I say, not as I do."
They are happy to demand we follow their rules, policies, and ideas. But they never seem to want to follow them, themselves.
Nancy Pelosi, Joe Biden, Gavin Newsom, Andrew Cuomo. They all have shown they care more about their appearances than doing the right thing.
It kind of makes it hard to trust these people, when they are so quick to drop their values, huh?
No doubt AOC will make an excuse for what she did. The media will gush over her.
But something tells me Americans are done with her games.
Key Takeaways:
AOC was caught taking off a mask right after a photo op.
The woman is being blasted for the hypocritical act.
The "Democratic socialist" has often been criticized for being all talk, no action.
Source: Fox News