Meghan McCain Seems To Have Flipped Sides – Starts Gushing About Biden, Says She's Voting "My Heart Over My Head"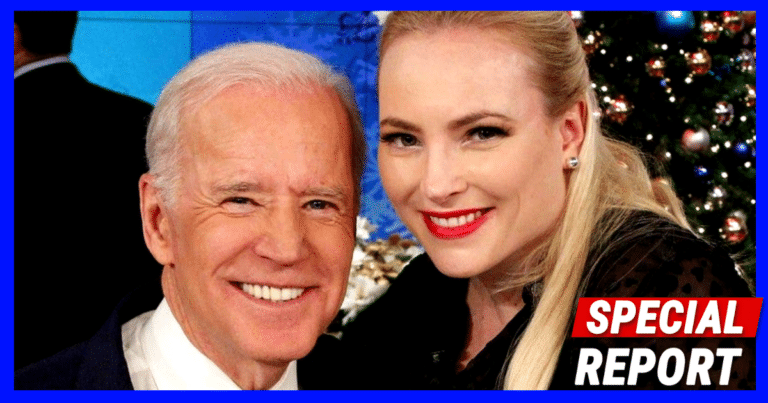 We all know about "Republican" John McCain's daughter, Meghan. Back when her father was running for president, she made a name for herself, promoting liberal ideas of all things.
Now she's considered the "conservative" one on the intolerable show, The View. Perhaps she's conservative compared to Whoopi… But give me a break.
Guess what she did, recently? She was asked about her 2020 opinion and I'm sure you can guess who she's backing.
From YouTube:
Meghan McCain talks about her connection with Joe Biden, says the Trumps are always making her mom cry, and is asked if she will say if she's going to vote for Joe Biden.
Ugh. The daughter of "Republican" John McCain seems to be supporting Democrat Joe Biden for president.
You know, the man who served for decades in D.C., with little to show for it? The man who was Barack Obama's vice president? The man who appears to be losing his mind?
Despite the massive victories Trump's achieved for the conservative movement, Meghan gushes over Sleepy Joe.
All because he and her daddy were friends.
She even suggested she's going with her heart instead of her head.
McCain basically admits Trump is the better candidate. Yet she is throwing her weight behind a who would undo all of Trump's accomplishments.
You can speculate why all day. Many Republicans considered her father to be a stealth Democrat. He promised for years to repeal Obamacare. But voted against a Senate bill that was going to do just that.
John McCain openly opposed Donald Trump, despite his consistent support for the GOP.
Meghan is paraded around by ABC as proof that they're not biased. "Hey, we got John McCain's daughter on our show. Isn't that conservative enough for you hillbillies?"
If Meghan's a conservative, then so is Bill Maher and Chelsea Handler!
Maybe Meghan is backing Biden because she feels pressure from her overwhelming liberal parent company?
Or perhaps she just wants to fit in with Andy Cohen? (I don't know why you would.)
But the bottom line is, backing Biden proves that she is putting her feelings ahead of what's best for the country.
Hmm… who seems to do that all the time? Oh yeah, Democrats.
Do you think Meghan McCain is a friend to Republicans?
Source: YouTube