After Trump Wishes Georgia Rally Merry Christmas – Democrat Michigan AG Scolds Americans That Say It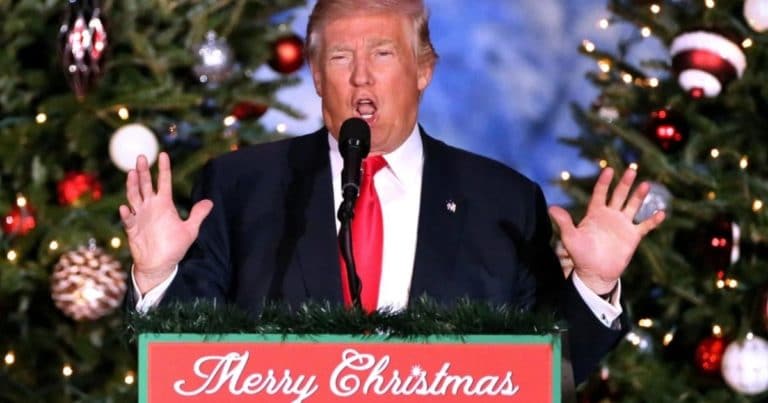 What's Happening:
As he does every year, President Trump wished Americans a Merry Christmas. He made the point of saying during an appearance at a Georgia rally.
He promised to bring it back, as opposed to those who want to water down the season with "Happy Holidays."
Plenty of Americans are behind the president, but he warned that Democrats will try to take this greeting from us, once again.
And, once again, he was quickly proved right. From Daily Wire:
Responding to President Trump wishing attendees at a Georgia rally a "Merry Christmas" and reminding them he had stated years ago that Americans would again use the phrase proudly despite those who would "try to take that word out of the vocabulary," Michigan Democrat Attorney General Dana Nessel issued a tweet (later deleted) in which she claimed her son had been "devastated" when an employee at a store wished them a "Merry Christmas."
The Democrat attorney general of Michigan apparently doesn't celebrate Christmas (even though non-Christians do every year). And she told a story online that her son was "devastated" when someone wished him a "Merry Christmas."
Although she deleted the tweet (perhaps it was a bogus story), she went on to scold Americans who love the holiday. She claimed using the phrase "Happy Holidays" was just as good.
Not quite, lady. And your insistence on telling people what they can or can't say only further proves what Trump says about your party.
Who has ever been "devastated" because someone nicely wished them a Merry Christmas? This is America, a historically Christian land. More than that, millions of Americans love the holiday.
I know Jews, Muslims, and atheists who celebrate Christmas. And I know even more who aren't offended because somebody says "Merry Christmas."
Yet Democrats appear to want to erode our heritage by forcing these neutered terms like "Happy Holidays" on us.
Is anyone cheered up by such a bland, uninspiring non-greeting? I doubt it. It was something cooked up by marketers to sell products to people who don't celebrate a holiday.
But proud Americans gladly say "Merry Christmas." And, like Trump, they will not be cowed into saying someone else because of Democrats.
This year, we need to say it more than ever.
Are you going to proudly tell people Merry Christmas this year?
Key Takeaways:
President Trump warned Democrats would once again try to take "Merry Christmas" from us.
Almost immediately, Democrat AG of Michigan tried to scold Americans for saying it.
She removed a tweet claiming her son was "devastated" when someone said Merry Christmas.
Source: Daily Wire