After Midwest City Ditches The Pledge Of Allegiance, Patriotic Citizens Strike Back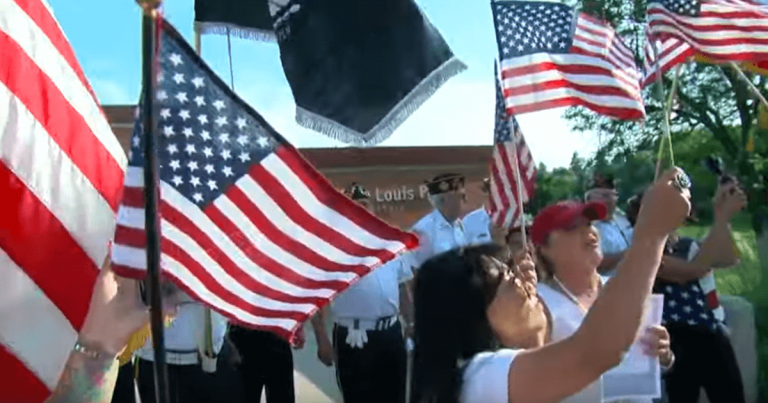 Whoa – they never knew what hit them!
Once again, our American traditions and rights are under attack.
In fact, one city in the Midwest has actually banned the Pledge of Allegiance before their city council meetings.
I mean, really? These meetings take place in the United States, right? And this is a government meeting, right?
So why are they banning the Pledge of Allegiance? The city claims it's to serve their "diverse community."
But that would imply that "diversity" means including people who don't love this country … which makes no sense.
And many patriots were outraged by the decision made by St. Louis Park, Minnesota officials.
From Breitbart:
"A Minnesota city council meeting erupted in displays of the U.S. flag and chants of 'USA, USA' after officials canceled the recitation of the Pledge of Allegiance to kick off each meeting…

The latest council meeting held on Monday featured a large number of citizens carrying American flags and chanting patriotic slogans."
That's what you call true patriotism!
If you ask me, anyone that wants to ditch the Pledge of Allegiance shouldn't be serving in ANY city council.
Obviously, many proud citizens agreed, as  these patriots showed up with flags and chanted "USA."
Now, did that offend their "diverse community"? I really don't see what it should.
What kind of community hates our pledge? If you live here, shouldn't you pledge allegiance to our flag?
Everyone that becomes a U.S. citizen should adapt and assimilate.
That means, if you're an American, you should be pledging allegiance to this country.
Yet, St. Louis Park City's council apparently doesn't believe they're even in America!
I hope this group of proud Americans keeps showing up for city council meetings, until this group of un-American members changes their stance.
…or gets voted out.
I know which I'd rather see … how about you? Let us know in the comments!
Source: Breitbart