Mike Pence Rocks the D.C. Swamp – The Former VP Just Made His Big Move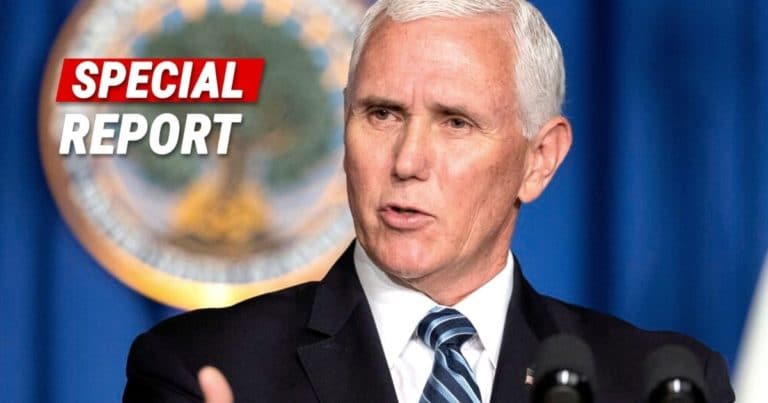 What's Happening:
Mike Pence was respected for his tremendous service as vice president of the Trump administration. The former governor was an uncompromising servant of the president's America-First agenda. And since that time, he has worked to promote conservative values across the country.
Many have speculated on Pence's future. Some Republicans blame him for the chaos surrounding January 6, 2021. But the man has a great, conservative record and plenty of years ahead of him to help turn the country around. And now, defying the swamp, he has made his big move.
From The Hill:
Mike Pence has filed to run for president in 2024, officially setting up a showdown between the Republican Party's most recent president and vice president as he and former President Trump seek the GOP nomination…

The former vice president is slated to launch his campaign Wednesday with an event in Iowa, which will be followed that evening by a CNN town hall in Des Moines.
Well, now! Everyone's doing a CNN town hall these days, huh? Former Vice President Mike Pence just filed to run for president next year. He will be joining a growing GOP primary and will face off against numerous Republican heavy hitters.
It will be very interesting to see who backs the former vice president. Many anti-Trumpers are rallying behind Ron DeSantis, impressed by his record as governor of Florida. Loyal followers of Donald Trump will bitterly oppose Pence since they blame him for the 2020 loss.
How will Pence fair in the coming months, as debates heat up and events take place all across America? Pence will have to pull enough supporters from Trump and DeSantis, to be a viable candidate. That will be no easy task.
Trump might use this as an opportunity. With Pence entering, DeSantis has a smaller chance of clinching the nomination. Pence will take votes away from DeSantis, i.e.: voters who want someone other than Trump.
Is Pence just going to end up spoiling the GOP primaries for DeSantis, giving the win to Trump? Or can Pence defy the odds and make it all the way to the White House?
Key Takeaways:
Mike Pence filed the paperwork to run for president in 2024.
He will be running against Donald Trump, his former ally.
Many Republicans blame Mike Pence for the 2020 loss.
Source: The Hill