Days After Minneapolis Council Backs Dismantling Police – Their Own Democrat Mayor Opposes Them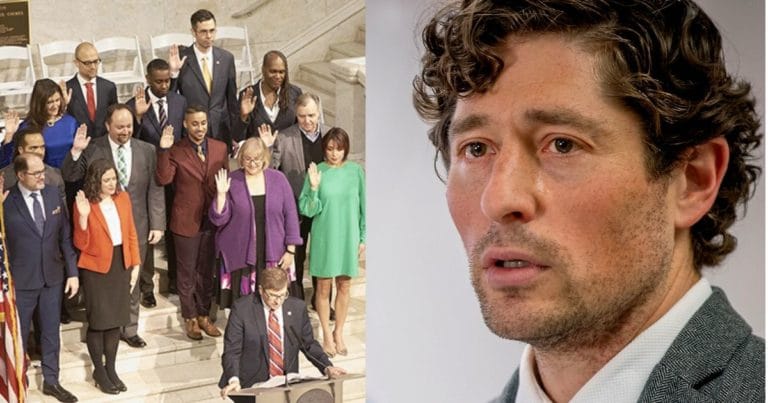 Minneapolis has embraced far-left policies as riots ravaged their streets. Antifa-backed attacks resulted in the destruction of hundreds of businesses and vehicles, with endless looting.
You'd think after such destruction, the city's leaders would call for stronger law enforcement, right? Not quite. The city council wants to eliminate the police department and start over.
But in a surprisingly sane moment, their liberal mayor is standing against them.
From Fox News:
Minneapolis Mayor Jacob Frey on Sunday reiterated that he doesn't support abolishing the city's police force, hours after a veto-proof majority of members of the Minneapolis City Council said they want to take that drastic step in the wake of the death of George Floyd in custody.
Despite a majority of the city council calling for the abolition of the police department, Mayor Frey of Minneapolis refuses to join them.
Our Take:
It's totally insane to believe that any city—on the planet—would support abolishing the police department.
Perhaps these leftist council members are just pandering for votes? Much like the "Abolish ICE" movement in 2018, they are saying whatever they think will win over voters in November.
An idiotic strategy, I know. But the alternative is that these Democrats really want Minneapolis to have ZERO police officers.
I don't think there is a word to properly describe that kind of stupid.
Mayor Frey was worthless during the riots (that's what you get for electing a man who wears skinny jeans). He had to let the National Guard come in and fix his blunder.
But even he knows that getting rid of the cops would be a disaster. He's vowed to "work with" the department to make sure something like George Floyd's death doesn't happen again. But he won't go as far as eliminating the department.
Want to know why? Because if—and I mean if—the city council does get away with it, guess who will get the blame?
If they manage to pass legislation that dismantles the MPD, and chaos ensues (which it will), residents won't blame the council, they'll blame the mayor.
The mayor is always blamed when a city suffers. After all, he's the guy in charge.
Jacob Frey does not want to be the one to answer to angry residents demanding an end to the unstoppable crime that will result in the abolishing of the MPD.
The city council is just hiding behind the mayor. Their faces aren't in the headlines. They won't face as much criticism and attack as Frey will.
They are basically throwing him to the dogs, just to pander to the radical left.
If they manage to abolish their police, expect Frey to step down in protest.
SHARE if you support our police officers, not radical Democrats!
Source: Fox News