Minutes After Biden's DOJ Indicts Trump – Donald Issues a Fiery Response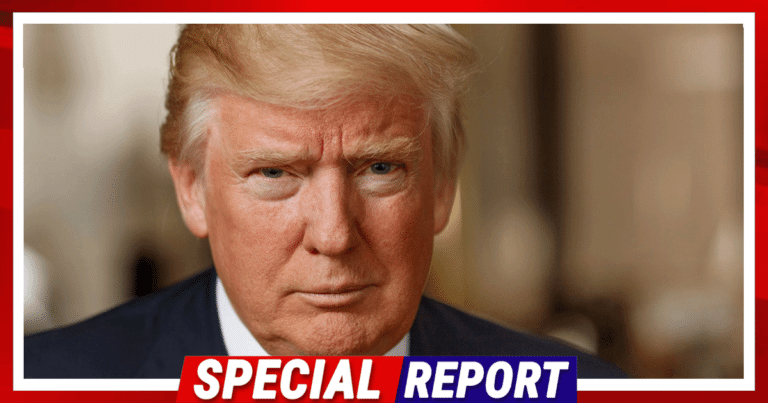 What's Happening:
Nearly a year ago, Biden's DOJ did the unthinkable and raided Donald Trump's in Mar-A-Largo. Despite cooperating with the National Archives, the FBI still stormed his estate, raiding everything from Trump's office to his wife's clothing.
All because he held onto a few documents, something even Joe Biden is guilty of.
For a sitting president to allow his DOJ to hound his biggest political rival is disgusting. It is the very thing Democrats impeached Donald Trump over in 2019 (despite a lack of evidence proving their claims). And now, Democrats have sunk to a new low in their battle to control the 2024 Election.
From Fox News:
Former President Trump has been indicted on federal charges that emerged out of Special Counsel Jack Smith's months-long investigation.

Trump is listed in the indictment, which has not been unsealed, as a criminal defendant charged with at least seven counts involving obstruction of justice, conspiracy, and illegal retention of classified government material. He has been ordered to appear in federal court in Miami on Tuesday.
Does anyone with half a brain believe this indictment is legitimate? From the very first day Trump entered politics, Democrats have gone out of their way to slander him and undermine his chances. His entire presidency was mired with Democrat attempts at impeaching or convicting him on some crime they invented.
This won't go over well with Americans. And minutes after this news emerged, Trump fired back.
From Breitbart:
Former President Donald Trump vowed to fight the pending indictment over allegedly classified documents in a defiant video message posted to Truth Social on Thursday…

"I'm an innocent man… Our country is going to hell and they come after Donald Trump, weaponizing the Justice Department, weaponizing the FBI. We can't let this continue to go on because it's ripping our country to shreds…

"And we will fight this out just like we've been fighting for seven years. It would be wonderful if we could devote our full time to making America great again. And that's exactly what we did. But now again our country is in decline."
Donald Trump blasted the Democrats behind this latest attack against him. He vowed he is an innocent man and blamed Joe Biden and the left for America's "decline." He pledged to his supporters that he would fight this indictment, just like he's fought every last attack from Democrats.
We all saw this coming. From the moment Biden's DOJ raided Trump's home, we knew the fix was in. Biden can play dumb all he wants, but this is the very thing Democrats claimed Trump was trying to do… but much worse.
Biden and Democrats are weaponizing the DOJ and FBI to meddle in the upcoming election. Chances are, none of these charges will stick. But this is the biggest attack in the left's campaign to slander Trump. They've been doing it for years, hoping all this bad press will sour voters.
But, in the end, Democrats are only destroying their own reputations. They are proving to the nation that they'll never stop hounding an innocent man, all so they can control you, the American people.
Key Takeaways:
Biden's DOJ indicted Donald Trump over the classified documents found at Mar-A-Largo.
Trump was defiant, saying he was an innocent man and vowing to fight.
Democrats are doing the very thing they accused Trump of, weaponizing the government against a political rival.