Minutes After Trump Bombshell Explodes – Republicans Come Sprinting To the Rescue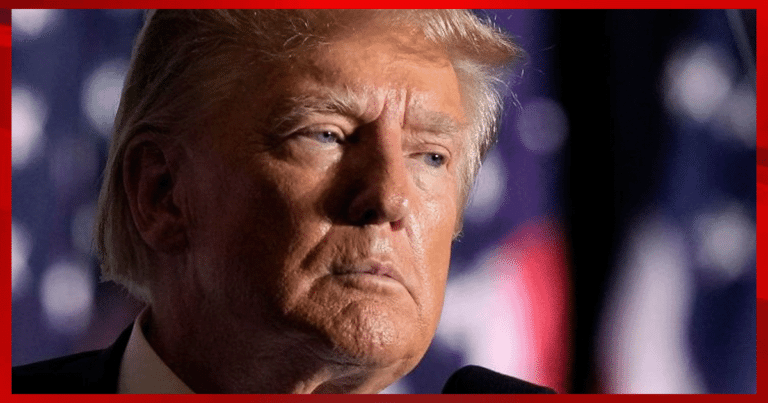 What's Happening:
If you really think the latest attacks by the left against Trump have anything to do with what they are saying, you need to take another look. All the polls show Trump winning the GOP nomination and even beating Joe Biden in 2024. Biden is crumbling. His mental health is getting worse by the minute.
Democrats have no real backup. And Trump has a record that he can ride right back into the White House. So, Democrats have been churning up the most intense, insane attacks we've ever seen. They've already indicted him twice over questionable charges. But guess what they just did?
From The Post Millennial:
Trump released a statement on Monday, saying that he was notified on Sunday that Biden's DOJ considers him a "target of the January 6th Grand Jury." This, Trump said, "almost always means an Arrest and Indictment."
Are you kidding me!? Are Democrats really this stupid? Democrats in New York indicted Trump over weak accusations regarding his business. Then Biden's DOJ indicted Trump over wild claims related to documents he kept at his home.
If that wasn't enough, Biden's rabid dog Jack Smith has just sent Trump a letter that essentially means they are going to indict him AGAIN. This time over already debunked accusations about January 6th.
And you don't think this is about stealing the 2024 election?
How can anyone not think the left is trying to rig our democracy? You might not believe they stole the 2020 election, but give me a break. They are indicting Trump three times? Do you really believe this has anything to do with the actual charges?
Democrats are panicking. They know if Trump returns to the White House, they are all doomed. So, they are throwing every baseless and idiotic charge they can cook up to take him down.
This is very troubling. It shows us that Democrats don't want a free country, but a kind of dictatorship where they persecute their political enemies to the death. And if you thought Republicans were taking this lying down, you're dreaming.
From Breitbart:
Republican officials blasted the Justice Department's January 6 probe and the reportedly imminent indictment of former President Donald J. Trump, expressing support for Trump in the face of the "weaponization" of the justice system against President Joe Biden's opponents.
Republican leaders are condemning the left's "weaponization" of the justice system against Donald Trump–Joe Biden's top political rival. Kevin McCarthy said this "is not equal justice," and that it is "wrong."
Jim Jordan said, "Americans are tired of the double standard!" Steve Scalise echoed the sentiment that Biden and Democrats are "weaponizing" our DOJ against their enemy. So did Elise Stefanik, Ted Cruz, Byron Donalds, and other top Republicans.
It's clear that Republicans are no longer standing for this nonsense. It took three indictments, but the party is finally taking Trump's side. If Democrats really think they can get away with this insanity, they are sorely mistaken.
Key Takeaways:
Trump revealed that Biden's DOJ was preparing to indict him, again.
Biden's lapdog Jack Smith appears to be indicting Trump over J6 claims.
Republican leaders condemned Democrats, accusing them of weaponizing the justice system.
Source: The Post Millennial, Breitbart